On 21st February 2019, all students and faculty members of Zhejiang Theological Seminary attended a service as well as the 2019 spring opening ceremony to begin a new semester. Vice President Rev. Wang Yinuo presided over the service. Vice President Rev. Chen Xiaolang prayed and President Assistant Rev. Lin Xinlu delivered a sermon.
From three perspectives of clarifying personal identity, performing duties and enjoying the blessings, Rev. Lin Xinlu utilized the verses from Colossian 3: 12-17 to exhort students and faculty members to fulfill their responsibilities as they live, study and serve in the new semester. It was followed by the speeches given by leaders from different divisions of the seminary, concerning the plans and expectations for the new semester.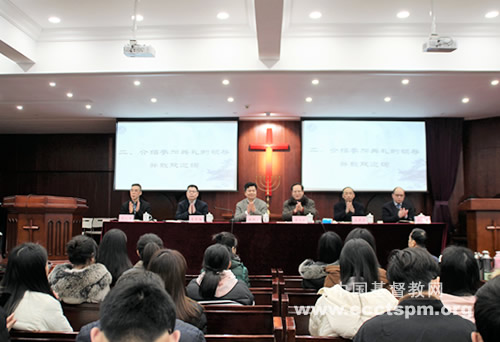 At the ceremony, teacher Tang Shiwen encouraged the audience to seize the moment and forge ahead in the year of 2019 since this year not only marked the 70th anniversary of the establishment of the country, and the 100th anniversary of May Fourth Movement, but also the 100th anniversary of CUV and the 35th anniversary of the founding of Zhejiang Theological Seminary. Tang's address was appealing and won much applause.
Rev. Pan Xingwang also gave a few words to students and faculty members: carry forward the patriotism and take lead in loving the country and loving the church; establish law-based thinking and become the law-abiding preacher; stick to the Three-self Principles and become the "shepherd" of running self-independent and self-reliant churches; practice theological thinking and serve as the preacher adaptable to the new era.