On the afternoon of March 1, 2019, a delegation from Ministry of Foreign Affairs, South Korea visited Mu'en Church (Moore Memorial Church) in Shanghai. Led by Vice Minister Mr. Lee Taeho, the delegation consisted of 15 people.
Rev. Jiang Qianli, senior pastor of Mu'en Church and vice chairperson of Shanghai TSPM, warmly received the guests. Rev. Jiang gave a detailed introduction of the church, including its history, the architectural style of the church, service times, weekday activities and ministry members, etc.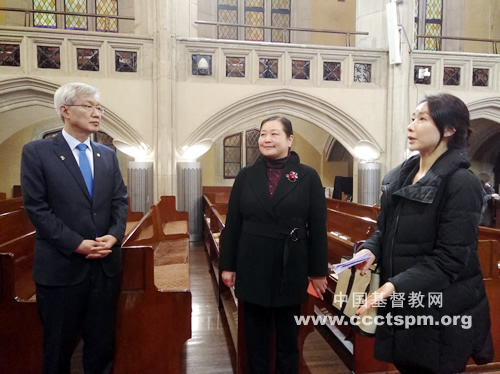 During the visit, a piece of Chinese painting portraying the story of the Prodigal Son captured the visitors' eyes. They appraised the idea of utilizing traditional Chinese art form to showcase the Biblical stories. They also highly appreciated the reception and the introduction.