On March 20, 2019, Fujian Theological Seminary held a graduation ceremony for 2019 pre-exam training course in Dongzhuang Church, Putian City, Fujian Province. 133 students from churches in Fujian attended the ceremony.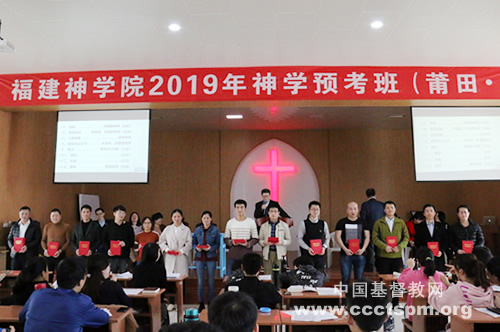 Rev. Huang Guoqing, president of Xiuyu Christian Council in Putian presided over the ceremony. On behalf of the graduates, Zhang Yu and Li Zhanguo gave a speech respectively, saying that what they received from the pre-exam training course reshaped and renewed their life.
On behalf of the faculty, Shi Xuefang encouraged all the students to shoulder the responsibilities in the new era and become the servants pleased by God.
Rev. Lin Chaoqun, supervisor of the course encouraged the students to "be consistent and faithful to God". Rev. Chen Guo'en, chairperson of Xiuyu TSPM in Putian delivered a speech, exhorting students to cherish the service opportunities.
Rev. Zhu Yimin gave the benediction at the end of the ceremony.
There was also an enrollment examination held in Fujian Theological Seminary from March 20-22, 2019. 116 candidates from churches in Fujian sat for the exam.