On the afternoon of April 1, 2019, Rev. Zhang Keyun, chairperson of Jiangsu TSPM and president of Jiangsu Theological Seminary, together with staff members from Jiangsu CC&TSPM and Jiangsu Theological Seminary received a five-member delegation from China Partner.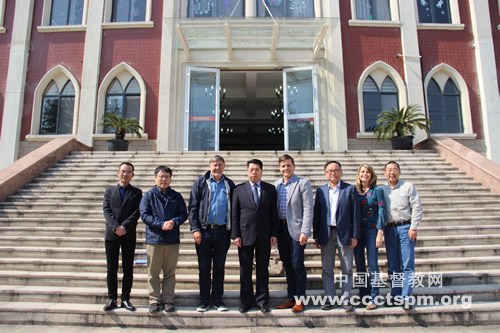 The delegation visited the auditorium, library, Cross gallery as well as an exhibition showcasing the development of the church in Jiangsu.
The two sides had a talk in the conference room. Rev. Zhang introduced the seminary's mission and the basic situation of the church in Jiangsu, reviewed the good exchanges between China Partner and the church in Jiangsu, and appraised their efforts of bringing the church in China to the world.
Erik Burklin, president of China Partnership expressed gratitude towards the warm welcome that the delegation received and showed confidence in future cooperation between the two sides.