On the morning of April 17, 2019, Rev. Shen Xuebin, vice president of China Christian Council (CCC) received Mr. Michael Perreau, general secretary of UBS, Mr. Kua Wee Seng, director of UBS China Partnership, and two other guests at CCC&TSPM headquarters. Ms. Gu Jingqin, chief of Overseas Relations Department participated in the reception.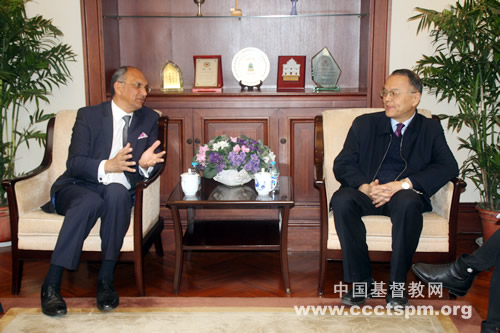 Rev. Shen Xuebin first extended welcome to the old friends from UBS, and expressed gratitude towards their continued and generous support in Bible publication ministries of the church in China.
Rev. Shen said that it is noticeable that the church in China has undergone rapid growth over the past forty years. However, since Christians in China may come from different educational backgrounds, there exists a demand in publishing high quality exegesis books as well as devotional books that can guide believers to foster correct theological values and play an active role in the society in the new era.
Rev. Shen also wished that both sides could continue to attach importance to the publication ministries.
During the meeting, both Mr. Michael Perrau and Mr. Kua Wee Seng expressed the willingness of strengthening mutual exchanges and cooperation, and exploring the publication and distribution of different versions of Bible, so as to satisfy the needs of Christians from different social and cultural backgrounds.