On the afternoon of May, 22, 2019, Zhejiang Theological Seminary held the third themed student debate competition to enrich the academic life of theological students, improve their logical thinking, verbal expression, teamwork, etc., so as to help them develop their ways of thinking more comprehensively and deeply in Bible study, theology, church, faith and daily life.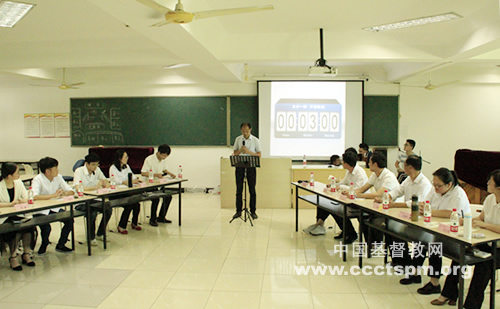 The six-to-six group competition was hosted by seminary teacher Rev. Huang Yousai. The debate competition was themed after "Which is more important for theological students, the ability of leadership or personal spiritual growth?"
Debaters from each side were selected from six classes of theological undergraduates and junior college students majored in Bible studies. Judges were consisted of leaders of the seminary and directors of all departments.
Rev. Pan Xingwang, president of Zhejiang Theological Seminary gave a conclusion speech. He noted that as the future pastors of churches, theological students should attach importance to both spiritual growth and shepherding believers.
Winning the debate competition only reflects the excellent performance manifested in analytical skills, language styles, teamwork cooperation, instant reaction, etc. Through the debate competition, the president hoped that all students and faculty be more diligent in thinking and take an active role in contributing to the church in Zhejiang in the near future.