From July 23 to 26, 2019, the ethics trainings for theological seminaries were held in Hohhot, the capital of Inner Mongolia. Around 60 teachers from 22 theological seminaries nationwide attended the trainings. Rev. Wu Wei, president of China Christian Council (CCC) participated in the trainings and delivered a speech.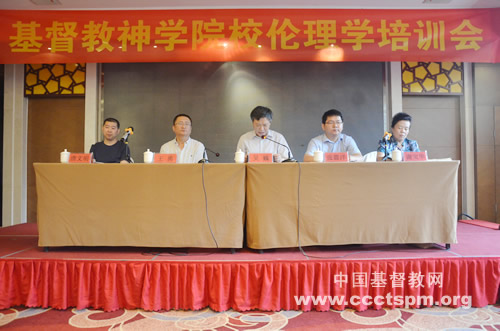 Before the trainings, Rev. Luo Deshun, president of Yunnan Theological Seminary presided over a service. Rev. Zhang Shuilian, executive vice president of Zhongnan Theological Seminary gave a sermon from Book of Judges 18:3 and encouraged attendees to explore ethics relations among human beings, nature, families and society with a focus on Christian faith and ethics.
CCC President Rev. Wu Wei gave an opening address. In his speech, he proposed ideas responding to the problems and challenges emerging in recent years when developing theological education.
He urged the congregation to hold on to the faith, share love with others and live a faithful life; positively react to the current status of Chinese society and the church in China, exert efforts in running churches and seminaries well and making Christianity in China beneficial to people and the society; adhere to the indigenization and contextualization of Christianity in China and ensure that theological education, especially ethics education takes root in the soil of outstanding traditional Chinese culture.
Afterwards, Rev. Wu Wei gave a lecture on the indigenization and contextualization of Christianity in China. He reviewed the early attempts on the indigenization and contextualization of Christianity in the history, background and its historical influences. Rev. Wu pointed out its vital relations with the reconstruction of theological thinking.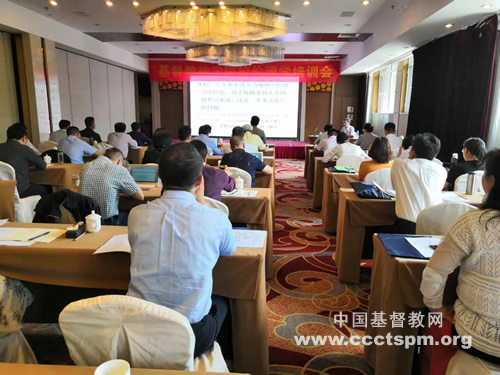 The four-day trainings included themed seminars, along with the group study on how to develop Christian ethics curriculum.

On the morning of 26st, seminar groups gave summary reports.
Rev. Su Ensheng, teacher from Fujian Theological Seminary said that when compiling teaching materials for Christian ethics courses, we should be in the accordance with the Biblical teachings, combine ideology with modernity, seek for the balance between globalization and indigenization, ecumenical principles and the indigenization and contextualization of Christianity in China, as well as tradition and modernity.
Rev. Song Zhiqiang, vice president of Fujian Theological Seminary suggested that it is necessary to specify the orientation of Christian ethics in the curriculum system and framework of Chinese theological seminaries; ensure that the ancient serve the present, the foreign serve China, and combine meta-ethics with normative ethics; establish teaching groups that can share teaching methods, syllabus and researches, etc.
Rev. Shan Weixiang, vice president and general secretary of CCC addressed the closing ceremony. He said that we can borrow the educational resources of ethics courses in universities and combine historical and cultural tradition of the church in China with the core socialist values, so as to compile the teaching materials and improve teaching quality of Christian ethics.
At last, Rev. Lin Manhong gave the final speech and announced that the trainings completed successfully.