To celebrate the 70th anniversary of the founding of the People's Republic of China and the 40th anniversary of church restoration, Shanghai CC&TSPM organized a one-day's visit to several churches in Shanghai.
Rev. Xu Yulan, chairperson of Shanghai TSPM, along with standing members of municipal CC&TSPM and secretary generals of district TSPMs participated in the activity on August 1, 2019.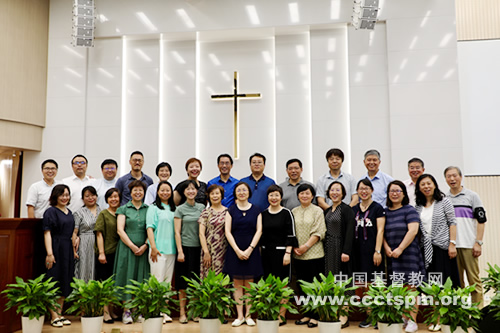 They first arrived at the Gospel Church in Pudong New Area, which is adjacent to various landmarks of the city's central business district Lujiazui. They listened to introduction about the history of Gospel Church. Built in 1948, the church had been restored in 1981 and was relocated in 1997. In the years of 2014 and 2018, Gospel Church was rebuilt and renovated respectively.
Xinchang Jesus Church was their second stop. Located in a quiet and secluded old town in the southern Pudong New Area, the church was one of the earliest churches that reopened in the suburb. The church was first built in 1949 and was reopened in November 1981. In 1994, Xinchang Jesus Church had an expansion to adapt to its growing number of congregation. The church can accommodate over a thousand people now.
There is a special ministry carrying out in this church, namely green care for candidates and their parents during exams. The church opens to the public during these times, and offers free tea and medicine for preventing heat stroke in summer. The choir's practice room is used as the rest room for candidates during exam break.
At the last stop, they went to the South Bridge Jesus Church in Fengxian District. The church was built in 1904 and restored in October 1982. It had been relocated for two times respectively in 1993 and 1999. The church was rebuilt in 2009 and renovated in 2018.