On October 13, 2019, Shandong CC&TSPM held an ordination ceremony in Lishen Church in Zouping, Binzhou, and ordained seven staff members from churches in Shandong. Over 100 pastors, staff members, brothers and sisters from Binzhou churches came to witness the holy moment.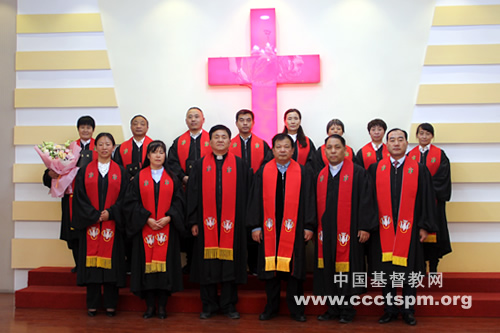 Rev. Ma Hui, director of Binzhou TSPM hosted the ordination ceremony. Rev. Gao Ming, chairman of Shandong TSPM preached a sermon with the theme "The Lord's Followers", encouraging the seven church members to serve as the Lord's servants and disciples and make clear of the calling of God. Rev. Gao also urged them to do their utmost to renew themselves, honor the Lord as the Most High, determine to devote themselves, love the Lord with all the heart, with all the soul, with all the mind and with all the strength, and build the foundation of service with love and a living hope.
Afterwards, Rev. Gao Ming and five other pastors respectively lay their hands on the seven church members.
Among the seven, Wang Pengfei from Boxing County, was ordained as pastor; Gong Shengyong, Cui Xiuxia, Hu Jingjun from Zouping City, Liu Hui from Zhanhua District, Wang Hongmei from Boxing County as well as Liu Zhigang from Yangxin County were ordained as elders. Then they received Bibles and stoles.
The ordination ceremony came to an end successfully, with the congregation giving fervent applause to congratulate the newly-ordained pastor and elders.