On the evening of November 2, 2019, jointly hosted by Beijing CC&TSPM and Chongwenmen Church, an original Christian musical themed "Exchange on the Reconstruction of Theological Thinking -- Indigenization and Contextualization of Christianity in China" kicked off in Beijing. Over 400 people including staff members of Beijing CC&TSPM, clergies, leaders of gathering points and church members watched the show.
In his address, Beijing TSPM Chairman Rev. Cai Kui said that the musical "Xushi" tells the true story of a Christian composer named Mr. Yan Shushi, who loved country and loved church. When the huge national crisis struck the Chinese nation, his well-known song "The Flowers In May" awakened the national awareness of a great many people.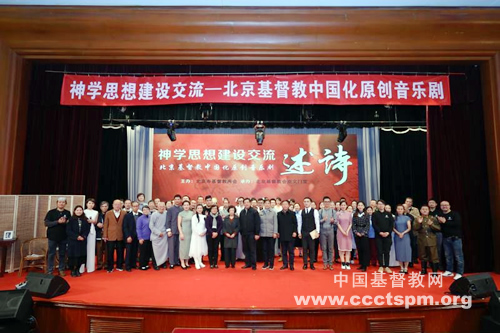 Chairman Cai Kui mentioned that Mr. Yan Shushi's compositions are inundated with patriotic sentiments. Since the reconstruction of theological thinking centers on loving country and loving church, creating this musical is the manifestation of promoting the indigenization and contextualization of Christianity in China by Beijing CC&TSPM.
In the sharing of the making of this musical, members of the production team from Chongwenmen Church said they were touched by Mr. Yan Shushi's selfless dedication, who was among numerous patriots choosing to fulfill their duties as Christians in achieving the national independence and liberation.
It is expected to see more stories of patriotic Christians that could stimulate Christians in this era with the heart of patriotism to carry forward the outstanding tradition of loving country and loving church, and to be attentive to our country and our nation.