On December 14, 2019, Tianjin CC&TSPM held the 2019 Christmas celebrations in Yangcun Church in Wuqing District to celebrate the birth of the Lord Jesus.
Over a thousand people including Rev. Mao Yajun, president and chairman of Tianjin CC&TSPM, staff members and church members of the gathering points in Wuqing District attended the activities.
The gospel in Wuqing District has been flourishing vigorously among Tianjin rural churches. There are nearly 7000 believers in a hundred or so gathering points.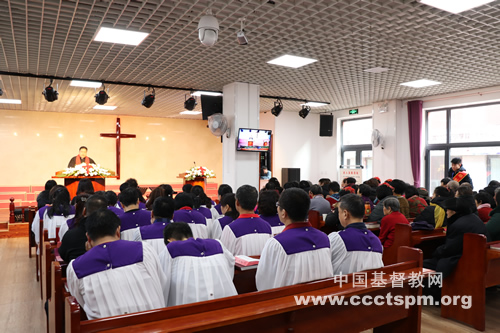 Meanwhile, churches in Wuqing are often harassed by heresies and infiltration. To bring stability to Wuqing churches and allow believers to be holy and faithful in a harmonious atmosphere for the services, Tianjin CC&TSPM held the 2019 Christmas service in Yangcun Church, Wuqing District. The service to celebrate Christmas together, aims at nourishing the spiritual life of believers in Wuqing District, and enhancing their capabilities of distinguishing and resisting against heresies.
The Christmas service was hosted by Rev. Lan Feng and Rev. Mao Yajun gave a sermon "Jesus Is The Light Of The World" from the Book of Isaiah.
He said, "The light brings warmth to the humankind, and expels misery, despair and fear. The light turns people around and brings joy to them. Hence, the world needs the light. The human needs the light. Life needs the light. The human needs to come close to the light so as to walk out of the darkness and become the son of the light. And the light is the Word that became flesh two thousand years ago. The light is the Lord Jesus who is the author and perfecter of our faith."