On the afternoon of January 12, 2020, over twenty staff members from a church-affiliated fellowship in Dahuangdi, Guandi Town, Dunhua City, Jilin Province brought cooked wheaten food to visit local thirty-five of seventy-somethings. The oldest of them is already over ninety years old.
In the rural Northeast of China, there is a tradition of making cooked wheaten food on the twelfth month of the lunar calendar in preparation for the Chinese New Year. In the village of Dahuangdi, up to thirty-five single senior people are above seventy. These years, staff members of local church-affiliated fellowship have been offering special care in helping them solve sorts of difficulties in their lives.
As the Chinese New Year is approaching, staff members learnt that these single senior people barely know how to make cooked wheaten food, and have little passion for the festival. According to this, Preacher Sheng Yingmei, head of the church-affiliated fellowship and other staff members decided to prepare cooked wheaten food for these single elder people after the discussion.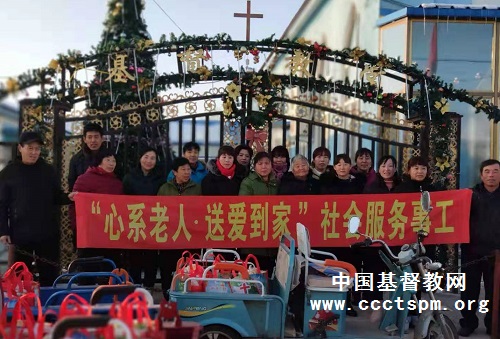 Within two days, all staff members of Dahuangdi church-affiliated fellowship made over nine hundred steamed buns and three hundred Chinese doughnuts. Steamed buns were colored by fruit and vegetable juice, and made into the shapes of pumpkins, hedgehogs, sparrows, octopuses, etc.
These single elderly people had tears in their eyes when receiving the gifts. One said that it was more of love and care than simply cooked wheaten food.
Preacher Sheng Yingmei said, "Even though our gathering point is small and limited in scale, we still should be obliged to love and care for each and every of our neighbors, help the single elderly people, deliver the love of God and let it satisfy the needs of the people.