On June 19, 2020, a donation ceremony was held by Jinlin CC&TSPM in Yitong Manchu Autonomous County, Siping City. Representatives of three nursing houses and poor rural households were present to receive the donations.

Yitong County is the only Manchu autonomous county in Jilin Province. And several nursing houses and documented poor rural households there were hit by the COVID-19. With the help of Association of Religious and Cultural Exchange in Jilin, Jilin CC&TSPM has raised 100,000 CNY via various channels, and then donated to three nursing houses and 120 poor households in Yitong County.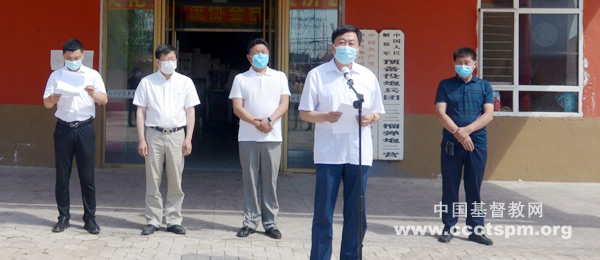 On behalf of Jinlin CC&TSPM, Rev. Hu Yuming, vice president and vice chairman of Jilin CC&TSPM addressed the ceremony. Rev. Hu said that Christians follow the biblical teaching of "the Son of Man came not to be served but to serve" to eagerly engage in philanthropy and charity, actively serve the society, endeavour to be light and salt so as to honor God and benefit people.
After the donation ceremony, staff members of Jilin CC&TSPM also visited Yitong County Church, Love Nursing House, as well as several poverty-stricken families.
(Translated and edited by Bei Sang)