On October 12, 2020, Zhejiang Theological Seminary held a service, an opening ceremony, an orientation meeting and a training session for epidemic prevention & control in the seminary's auditorium to begin the new semester. All faculty and students attended these events.
The service for the beginning of the new semester kicked off at 2p.m. The holy choir of the seminary performed the hymn Now I Know. Rev. Lin Xinlu, assistant to the seminary's president encouraged the congregation to "deny themselves and follow the Lord, empty themselves and imitate Him, discipline the body and glorify Him". The sermon was ended up with the exhortation from Romans 14:7-8: "For none of us lives for ourselves alone, and none of us dies for ourselves alone. If we live, we live for the Lord; if we die, we die for the Lord. So, whether we live or die, we belong to the Lord."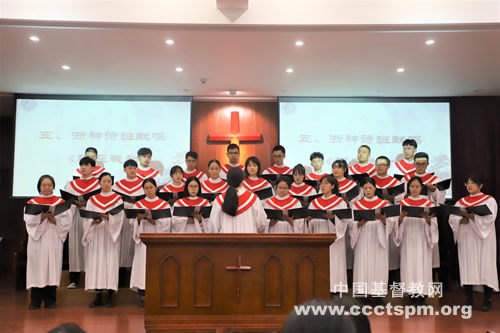 In the orientation meeting, faculty members in charge of the library, the Research & Edition Room, the Office of Student Work, the Office of Academic Affairs, the Office of Administration, etc. respectively introduced relevant regulations and detailed rules. Students were required to follow school rules so as to jointly create a good campus environment.
Vice President Rev. Wang Yinuo re-emphasized that measures for epidemic prevention and control should not be loosened. All faculty members and students attended the training course for epidemic prevention & control, and studied the Work Plan of Epidemic Prevention and Control for 2020 Zhejiang Theological Seminary's Autumn Semester Reopening.
(Translated and edited by Bei Sang)