On November 10, 2020, Heilongjiang Theological Seminary conducted a graduation ceremony for graduates of 2020 at Fangzhou Church of Olive Mount Education Center.
The graduation service was presided over by Rev. Xue Shihai, vice president of the seminary. President Rev. Yue Qinghua was invited to give a sermon with the title "Rise up and Become the Mighty Army of God". He encouraged all graduates to be dependent on the Holy Spirit as warriors of gospel, and soldiers of Christ.
Rev. Li Meilan, executive vice president of the seminary, hosted the graduation ceremony. Rev. Lv Dezhi, vice chairman of National TSPM, chairman of Heilongjiang TSPM and president of Heilongjiang Theological Seminary, performed the liturgy of commissioning, and together with Rev. Xue Shihai, conferred certificates to the graduates.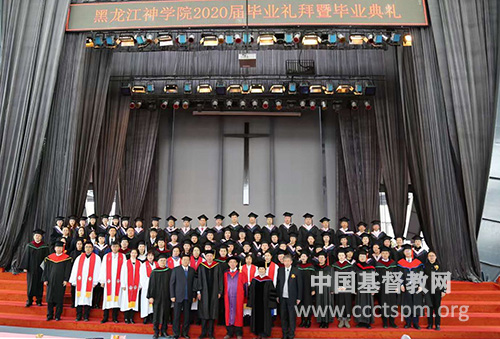 On behalf of the seminary, President Rev. Lv Dezhi presented graduates with books as gifts. Representative of the graduates also expressed their appreciation towards Heilongjiang Theological Seminary. After the graduation ceremony, there was a performance given by the 2020 graduates of sacred music.
The 2020 graduates in Heilongjiang Theological Seminary consisted of 48 people in theology, sacred music or special education programs. Entering the period of regular virus prevention and control, Heilongjiang Theological Seminary had postponed the 2020 graduation ceremony due to the safety concerns over the epidemic. Nevertheless, with the supports of local authorities, the seminary could resume classes this September and complete the academic goals of 2020. The graduates of 2020 finished their programs successfully.
(Translated and edited by Bei Sang)