On the afternoon of April 27, 2021, CCC&TSPM had a virtual meeting with the United Bible Societies, China Partnership. Attendees included the President of CCC Rev. Wu Wei, Vice President Rev. Shen Xuebin, Bishop John Chew, honorary consultant of the UBS China Partnership, Director Mr. Kua Weeseng, etc. The two sides shared the situations of their churches and ministries in the post-pandemic world, and explored the plan of a strengthened cooperation for the next five years.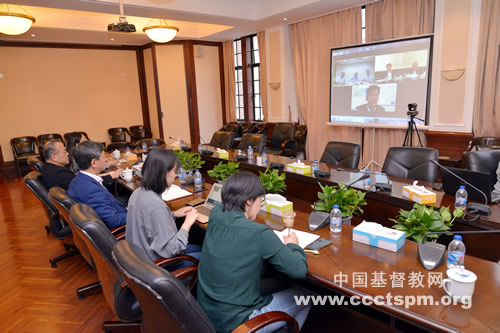 Rev. Wu Wei firstly extended regards to old friends on behalf of CCC&TSPM. He appreciated that as a witness of Chinese churches' reopening and growth, along with social development since the reform and opening up, the UBS China Partnership has long been supportive to the churches in China in Bible translation, overseas theological education of Chinese seminary students, etc. Rev. Wu also mentioned the pastoral care challenges that emerged in Chinese churches in the period of regular epidemic prevention and control.
Rev. Shen Xuebin recalled the friendship and exchanges over the past forty years of both sides, and then said that many local churches in China have opened and resumed congregational activities.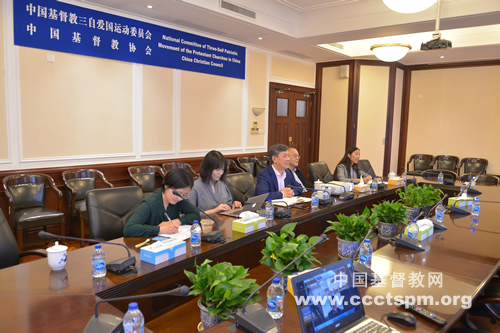 Bishop John Chew and Director Kua also noted that the UBS would continue to show respect for the Three-self Principles upheld by the churches in China, and hoped that the two sides would proceed to enhance cooperation, strengthen friendship, and perform ministry exchanges. The two sides also had an in-depth exchange and discussion on talent cultivation, collaborative Bible translation, the decline in church attendance due to the epidemic, and better pastoral care in the period of regular epidemic prevention and control, etc.
This was the first virtual meeting between CCC&TSPM and the UBS China Partnership since the COVID-19 outbreak. The two sides all expected that there would be more mutual visits soon after the pandemic comes to an end.
Ms. Gu Jingqin, interim chief of Overseas Relations Department, Ms. Shi Meiying, as well as other staff members of CCC&TSPM also participated in this virtual meeting.
Translated and edited by Bei Sang.