On July 9, 2021, Liaoning CC conducted an ordination ceremony for all churches in the province. Present at the ceremony were Rev. Hao Zhiqiang, chief editor of CCC&TSPM's magazine Tianfeng, leaders of Liaoning CC&TSPM, and clergy and members of churches in Liaoning.
60 members from churches across the province had passed the strict assessment by Liaoning CC&TSPM. Among them, 29 were ordained as pastors and 31 elders.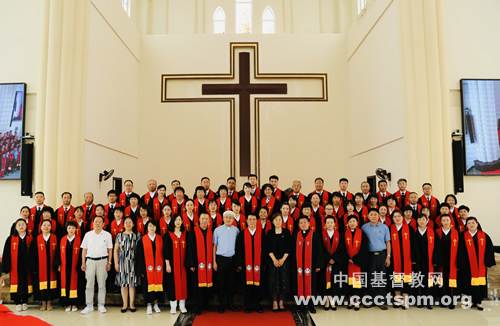 Before the ordination, they had attended a three-day training given by Liaoning CC&TSPM. Lectured by experienced clergy and teachers of Northeast Theological Seminary, they were imparted with the knowledge involving religious policies and rules, church governance, Christian rites, hermeneutics, as well as the history of Christianity in northeastern China.
On July 11, Shandong CC&TSPM held an ordination ceremony in the International Church of Shandong. The 28 newly-ordained clergy were from the International Church (Jinan City), Liaocheng City, Dezhou City, Heze City and Zaozhuang City. Among them, 11 were pastors and 17 elders.
Translated and edited by Bei Sang.