On June 11, 2022, with adequate anti-epidemic measures in place, Hecheng Church in Foshan City, Guangdong Province conducted a groundbreaking ceremony for its new church building.
The ceremony was hosted by Wang Xiangyang, a preacher of the church. Rev. Lei Yuming, the vice president of Guangdong CC, preached a sermon and Rev. Guo Yun, the president of Guangdong CC, gave the benediction for the event.
Rev. Lin Enling, Secretary General and General Secretary of Guangdong CC&TSPM, Dr Wuning, Associate Researcher of Guangdong Institute of Ethnic and Religious Studies, Li Shangjian, Associate Professor of Guangdong University of Education, Chairman Huang Canwen and Vice Chairman Tan Jiahui of Gaoming Countrymen's Association in Macau (Associação dos Conterrâneos de Kou Meng), Chairman Liang Guichu of Taiwan Businessmen Sodality, and an assembly of nearly 100 people from the brethren churches of cities like Yunfu and Zhaoqing, 21 churches and six gathering points in Foshan attended the ceremony.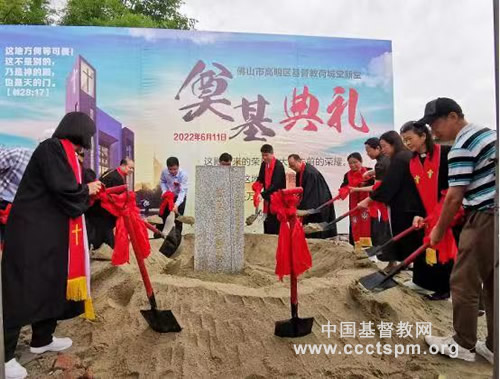 Elder Wang Fuhua, the director of Hecheng Church, introduced preparation procedures for church construction to the guests.
Hecheng Church, also known as "Liang Fa Memorial Church", was built by The Church of Christ in China in 1928 to commemorate Liang Fa (born in Xiliang Village, Gaoming District, Foshan City), who was the first Chinese pastor. Located at Sanzhou Huiyuan Street, Gaoming District, the church has opened for congregational activities since 2006. However, the church is now a dilapidated building. With the assistance of Ethnic and Religious Affairs Bureau of Foshan, Gaoming District Government and relevant departments, the church will be relocated to a new site, covering an area of 1,700 square meters. Hechen Church will take on a new look, composing of a main church hall, a memorial gallery for Pastor Liang Fa as well as other functional areas, all of which will be in a comprehensive building.
Translated and edited by Bei Sang.