Affiliated to Hulunbuir CC&TSPM, the Heavenly Grace Church is located in Hailar District, Hulunbuir City, Inner Mongolia. The church was officially open to the public on August, 3, 2016. Its liturgy of baptism, which usually falls on Easter, had been suspended for three years (2020-2022) due to the COVID-19.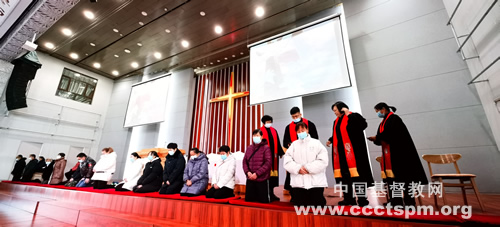 In September 2022, the Heavenly Grace Church began to resume congregational activities. The church decided to offer another baptism class for those candidates, whose baptism had to be postponed due to the pandemic for the past three years, to help them strengthen personal faith and know the truth.
Following the two-month training, the Heavenly Grace Church performed a baptism for 29 brothers and sisters on the morning of November 12. Rev. Wang Lihua, the director of the management committee of the church, officiated at the baptism; Rev. Pan Limei and Elder Feng Guiying from the Heavenly Grace Church, together with Rev. Zhang Shukai from Manchuria, con-celebrated the liturgy. Choir members, church servicers, and several brothers and sisters attended this sacrament.
Translated and edited by Bei Sang.