On the afternoon of March 3, 2023, CCC&TSPM and Shanghai CC&TSPM jointly held the 2023 World Day of Prayer in Holy Trinity Cathedral, the affiliated church of CCC&TSPM. The Commission on Women and Youth Ministry of CCC&TSPM has begun to work on the liturgy and content for the prayer since last year. This year the theme was "Reconciliation in Christ", with the verses from Colossians 1: 18-20. The worship service included Bible study, testimony sharing, intercession, etc. Nearly 200 clergy and believers from churches in Shanghai and CCC&TSPM participated in this event.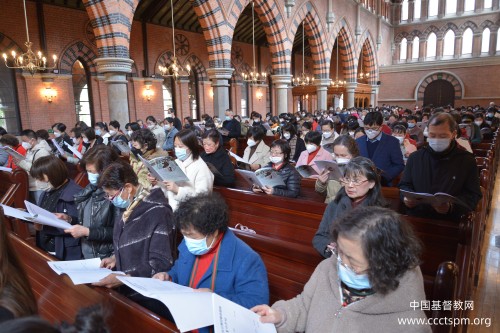 Rev. Fang Ying from CCC&TSPM gave a sermon entitled "Reconciliation in Christ". She preached the message from the following three aspects: to know Christ and reconcile with God, with Christ to reconcile with oneself, and to proclaim Christ and make others reconcile with Him. The moderator led the congregation to reflect on three questions: Do you acknowledge the Almighty of Christ, and let Him be the first of everything in your life? Sisters, do you reckon yourself as the ambassador of the gospel of peace like all people? In the grace of "Reconciliation in Christ", what kind of testimonies have you shared to make people know God who they can reconcile with?
As the response, members of CCC&TSPM and Shanghai CC&TSPM respectively shared the testimonies of three female clergy. They are Rev. Li Meilan, senior pastor from Dazhi Street Church, Harbin City of Heilongjiang Province, who was the first recipient of the Advanced Individual Prize in the National Religious Circles, Rev. Lin Li from Duyun City of Guizhou Province, and Elder Wang Jianhua, winner of the Exemplary Charity Prize of "Shanghai Charity Prize" 2022 from Hudong Church, Yangpu District of Shanghai.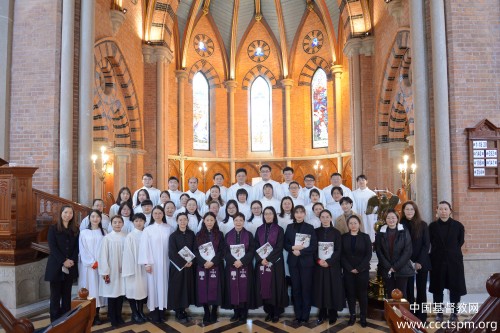 In the intercessory prayer, the moderator led all to pray for the unification of the country, the Chinese path to modernization, concerns of the climate change, preservation of ecological environment, church recovery in the post-pandemic age, as well as the further advancement in the Chinanization of the Christian Church in China.
During the service, the congregation made a specific offering, which would be given to the Grace and Light Nursing Home in Shanghai.
Translated and edited by Bei Feng, Tian Tian.