After the outbreak of COVID-19, as a bridge of communication between churches at home and abroad, CCC&TSPM issued an appeal to overseas churches for assistance. More than 20 churches and church organizations in North America, Europe and Asia have sent letters to express their care and concern for the Chinese people suffering from the epidemic. There are also some overseas churches supporting China's fight against the epidemic through various actions.
At present, the outbreak has turned more destructive than anticipated, and has presented a major test for each and every country. No country can tackle this disease on its own. We are all in this together. The Chinese government has provided or is providing assistance to more than 150 countries and international organizations. CCC&TSPM also concerned about the overseas epidemic situation and sent pastoral letters to some friendly churches that threatened by the coronavirus. "We do hope that this global crisis may subside soon. It is time that countries and regions resolve to work together to tackle the challenge. We pray that love and compassion be spread rather than the panic and the hostility. And may those who suffer pain and loss be given healing and comfort."
During this outbreak, China has faced severe difficulties, lacking anti-epidemic supplies, no medicines and no vaccines. But the Chinese government and the medical teams on the front lines have created the Chinese approach to fighting the epidemic by "using whatever is available, adjusting and adapting as much as possible, and saving as many lives as possible." Through the Overseas Relations Department and the Social Service Department, CCC&TSPM shared with some overseas churches and organizations China's measures and successful experience in fighting against the epidemic, especially the continuous participation of the Christian community in social services and joint anti-epidemic activities in these difficult times, to encourage their confidence in overcoming the virus.
In addition, CCC&TSPM has purchased 4,000 KN95 masks, donated to the Uniting Church in Australia, a partner church of Church in China, and provided them to staff and volunteers of its social service agencies. These supplies can help them protect themselves when providing services to the elderly, the disabled, children and other vulnerable groups. In recent days, these protective supplies have been arriving, across the ocean to the hands of the people in need.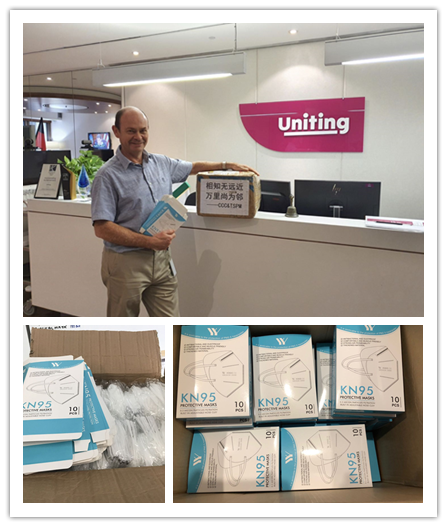 Though covering the distance, crossing the oceans, we are close to each other in prayer. Viruses are a common enemy of humanity. Our fortunes are closely inter-connected. We have every confidence that together we will prevail over the epidemic! ◆
---
Scan a QR code to follow
——WeChat : ccctspmsfb——