On 27th October 2018, Heilongjiang Christian Council held its tenth ordination ceremony in Harbin Hallelujah Church.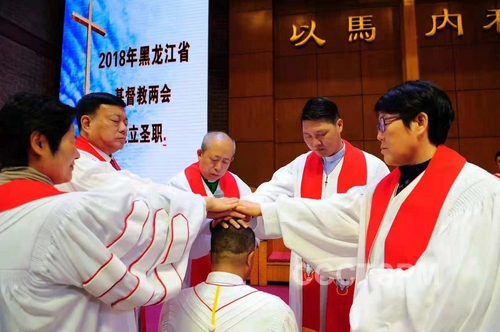 54 co-workers from the churches in Heilongjiang Province were ordained. They were selected and recommended by municipal CC&TSPMs and churches, as well as churches in the agricultural areas and the Great Khingan Range.
Mr. Ma Guoli, Director of Division II of Heilongjiang Administration of Religious Affairs, delivered a congratulatory speech during the ordination ceremony. He quoted the teaching from the Scripture: 'Just as the Son of Man came not to be served but to serve' (Matthew 20:28) to exhort those who were going to be ordained to serve the church and society. He also urged them to keep cultivating themselves, love the church and the country, and obey the law. His wishes were that they would become pastors of the new era who were politically reliable, religiously accomplished, morally respectable, and able to make a difference in times of trial.
On 28th October 2018, Hubei provincial CC held the ordination ceremony for E'xi District (the western part of Hubei province, including cities like Jijingmen, Jingzhou, Yichang and Tianmen) in Jingmen Central Church.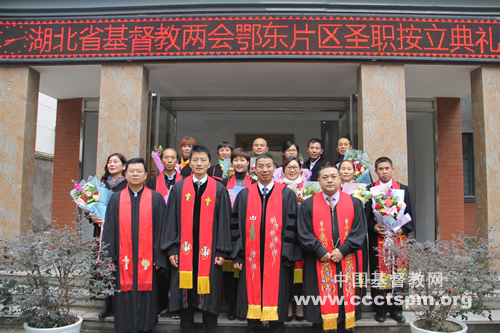 Rev. Wang Zhisheng presided at the ordination service. Rev. Hu Kaiming, chairman of Hubei provincial CC, quoted from 1 Timothy 4:16 and shared with his fellow believers the significance of 'Being as a living shepherd'. He said that the shepherd needs to serve the Lord with burning heart, pray all the time, and become a good servant and comforter in God's home.
Rev. Ding Jianghua, Secretary-General and General Secretary of Hubei Provincial CC&TSPM, introduced to the congregation the ten coworkers who were to be ordained. On behalf of the church, Rev. Zhu Zhiguo, Chairman of Hubei Provincial TSPM, inquired the ten coworkers according to Church Regulations in Hubei Province, and led them to make a vow before God. Rev. Qiu Zhongchang, senior pastor of the church, prayed for the ordination.
Having been ordained, Rev. Peter Zheng, on behalf of the newly ordained pastors, made a speech about their commitment. He said that they would obey the commandments of the Bible, shepherd the flock according to God's teaching, and be the faithful stewards of God's grace in its various forms. They would also stick to the Three-self principles, love the country and the church, glorify God and benefit people, fulfill their duties and live up to God's call.