On 3rd November, 2018, a 35-person delegation led by leaders of Shandong Provincial CC visited Jining Municipal CC, which received warm welcome from local pastors and coworkers.
After visiting Huangjiajie Church, two sides had a meeting, Rev. Kong Xiangling and Rev. Tang Li extending warm welcome to the delegation led by Rev. Zhang Jianshun. Firstly, Rev. Kong combined with the Confucius Culture to present the historical background and status quo of Jining Church in details. He also introduced the progress Jinan Church had made in developing the ministries with regard to team building, regulation construction, talent cultivation, social service, and so forth, since Jining Church enjoyed the geographical advantages of being adjacent to the birthplace of Shandong Culture. Rev. Kong pointed out that efforts will continue to be made in church infrastructure, including building a modernized church equipped with training center and home care. Rev. Tang then introduced the ministries in Huangjiajie Church, church activities organized by choirs and fellowship. Brother Jia Mingxing as the team leader of Social Service Team shared the the work they've done recently to the visitors.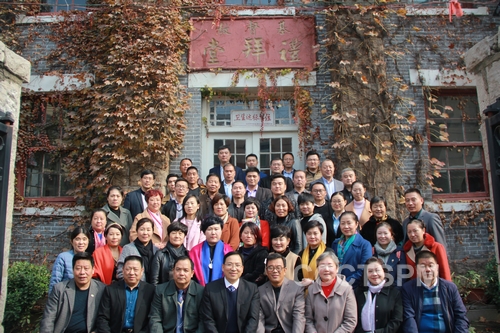 Later, Rev. Zhang Jianshun expressed the gratitude toward the warm reception from Jining pastors and coworkers. He introduced the members in the delegation and told that it was the trip of finding the origin of Confucius as well as the Chinese traditional culture. He would like to take Jining Church as a model for its richness in practicing cultural cohesion, which triggered deeper thinking in indigenization and contextualization of Christianity in China. And it was a chance to exchange ideas and learn from each other in order to run Linyi Church well in this new era. Rev. Liu Zongchang saw this exchange as profitable through discussing the thoughts of ancient saints and further exchanging ideas in terms of church governing and pastoral care when correlating with Confucius culture, and this could play a fundamental role in helping people recognize and get immersed in traditional culture, and pushing forwarding the indigenization and contextualization of Christianity in China in cultural aspect.