On 14th January 2019, Rev. Wang Jun, President and Chairman of Shaanxi CC&TSPM led a group of seven church staff and went to Xianyang, Xi'an and other places to visit local elderly pastors.
At 8:00 a.m., the visitation team of Shaanxi CC&TSPM first headed for Gaoling County in Xianyang to visit Rev. Wen Jizhong and his wife. On behalf of Shaanxi CC&TSPM, Rev. Wang inquired their health and living conditions in details and gave them subsidies.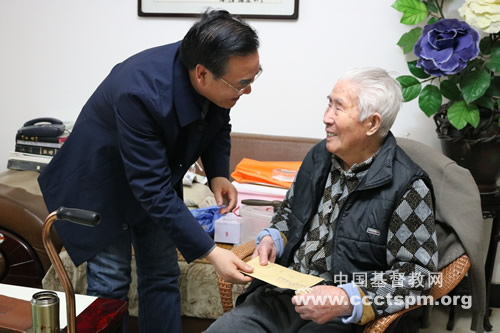 The visitation team then went to Sanyuan County, where they visited the 95-year-old venerable Rev. Zhang Guanru, former Vice President of Shaanxi Bible School, the sixth honorary Chairman and President of Shaanxi CC&TSPM. Although already in his nineties, Rev. Zhang was still in good mental and physical state. He is concerned about the new branch campus of Shaanxi Bible School.
Rev. Wang Jun reported the latest preparation work for building the new campus to Rev. Zhang and thanked Sanyuan Church on behalf of Shaanxi CC&TSPM for their efforts to support and publicize the construction of the new campus every Sunday. Since there is still a large funding gap, Shaanxi CC&TSPM encourages every Christians in Shaanxi to donate 200 RMB for the new campus and calls on brother churches and warm-hearted people to contribute to this noble task that promotes the healthy development of the church in northwest China.
In hearing that, Rev. Zhang Guanru was very much delighted and gave blessings while holding Rev. Wang's hand. He hoped that Rev. Wang Jun would be a good church leader for the church in Shaanxi like Moses.
In Xianyang, church staff paid a visit to the 96-year-old Rev. Xue Jinghui. Rev. Xue was in good health and cared about the construction of the new campus and Rev. Wang patiently reported the current construction situation.
Lastly, they went to visit Tian Quande, Chairman of Xi'an Young Men's Christian Association (YMCA). Chairman Tian introduced the history of Xi'an YMCA and spoke highly of what Xi'an CC&TSPM had achieved under the leadership of Rev. Wang Jun in recent years. They exchanged ideas, counted God's grace and blessings, expressed thanks for the past and looked into the future.
Afterwards, Rev. Wang Jun said to church staff, "those elderly pastors deserve our reverence as they once suffered a lot and had devoted themselves to the church in Shaanxi. We should bear in mind their contributions and carry forward God's spirit of love."