From 22nd to 25th January 2019, Qilu Theological Research Center of Shandong Christian Council and Committee of Three-self Patriotic Movement (CC&TSPM) held the 2nd Pastoral Care and Bible Study Class. John Chew Hiang Chea, Emeritus Archbishop of Anglican Diocese of Singapore was invited to give a lecture. Prof. Zhao Jie from Shandong University and Prof. Chen Dongfeng from Beijing Jiaotong University were also invited to come for mentoring and discussion. Over a hundred people including leaders from Shandong CC&TSPM, faculty members from Shandong Theological Seminary, church staff and members from Shandong came to attend the seminar.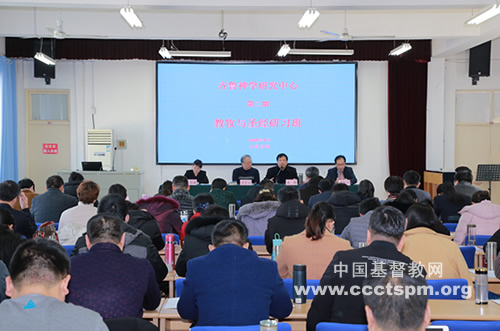 The lecture given by Emeritus Archbishop Chew centered on three topics: the doctrine of church, church rite and ministries. He shared the history of the ancient civilization behind the Bible as well as the essence of the Biblical verses, and led all to delve into the cause and effect of God coming down upon Mount Sinai in the sight of all the people and its impacts on how to apprehend the whole Christian beliefs. Prof. Zhao Jie and Prof. Chen Dongfeng's explanations shed light on the "etiquette" (li) both from the aspects of traditional Chinese civilization and Christian civilization. This allows the audience to deepen their understanding regarding how the ancient Biblical civilization has been shaping Christian beliefs and the world. At the seminar, two professors also patiently answered the questions proposed by the trainees of the Bible study class.
From this training, church staff and members can learn to take root in the Bible and combine theological thinking with practical action in church. It is beneficial for building Qilu theological system and establishing the basis of developing Christianity in the Chinese context for the church in Shandong.