On 24th February 2019, Tienan gathering point in Danjiang Street, Dunhua City, Jilin Province held a hand-over ceremony to welcome its seventh leader taking over the responsibilities of pastoral care and church governance.
Rev. Wang Daiyu, chairman and president of Dunhua Christian Council and TSPM gave a sermon titled "Jointly Experience the Miracles of God" to share how to experience God's miracles by citing Matthew 14:13-21. Rev. Wang exhorted church members to shoulder the responsibilities and be fully devoted, lead a transformed life to share God's grace and experience His miracles together.
It has been 30 years since Tienan gathering point held its first service in the house of Brother Wang Dechang in 1989. The congregation began with over ten believers.
In May 1995, the gathering point purchased and moved into a 60-square-metre house. There were nearly 60 believers at that time. In 1996, with about 80 believers, Tienan gathering point was registered and officially authorized.
In 2001, Tienan gathering point was rebuilt and expanded into a 160-squre-metre church that could accommodate over 300 believers.
Over the past 30 years, the gathering point had been led by six leaders responsible for pastoral care and governance. They shared in woe or weal, experienced the revival of the gathering point and witnessed an increased number of believers.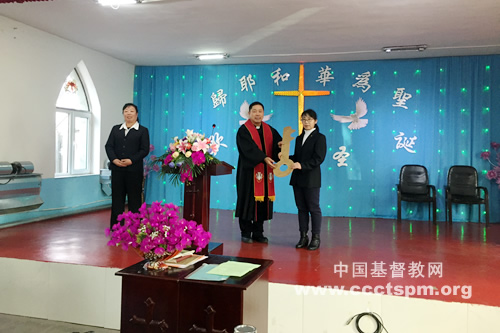 The new leader Preacher Su Kehong and church members stood beside the pulpit separately. Preacher Su took the vow of willing to shoulder the responsibility of shepherding the gathering point; willing to shepherd the "sheep" of God based upon the Biblical teaching; willing to govern the gathering point well by laws; willing to lead believers to resist heresies, cults as well as the infiltration; willing to promote the indigenization and contextualization of Christianity in China and lead believers to practice core socialist values; willing to sacrifice with devotion and duty.
Then Rev. Wang Daiyu led the congregation to kneel down to pray and deliver the gathering point and the servants in the hand of God.
At last, the hand-over ceremony was closed with the singing of praise.