On the afternoon of May 15, 2019, Guangdong Union Theological Seminary held its annual debate competition on theological thinking in the seminary's lecture hall.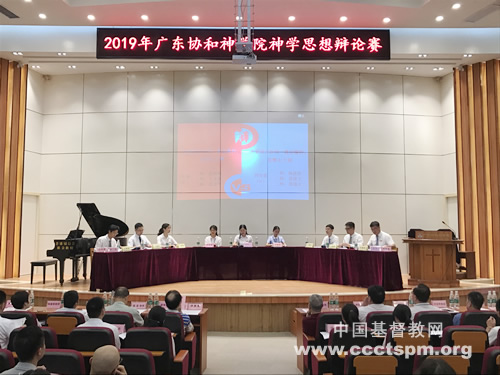 Rev. Pei Lianshan hosted the debate competition, and Rev. Lin Enling prayed. Rev. Cai Bosheng, vice president of the seminary, delivered the opening speech.
Rev. Cai had the anticipation on the theological students to reflect more, and achieve improvement not only in biblical teachings, but also in common knowledge, social and theoretical practice.
Rev. Fan Hongen, president of Guangdong Christian Council, exhorted candidates with verses from Luke 12:11-12 to be clear-minded and bring into full play personal capacity in the debates, so that the competiton could enable theological students to acquire more knowledge that can be helpful in serving.
The topics of the debates included: "Is it positive or negative that wife and husband serve in the same church", "Should the church in China stress more on love or on discipline", and "Is it positive or negative to utilize electronic technologies in churches".