On May 24, 2019, an internship launching ceremony was held in Quzhou Gospel Church for theological graduates of Zhejiang Theological Seminary.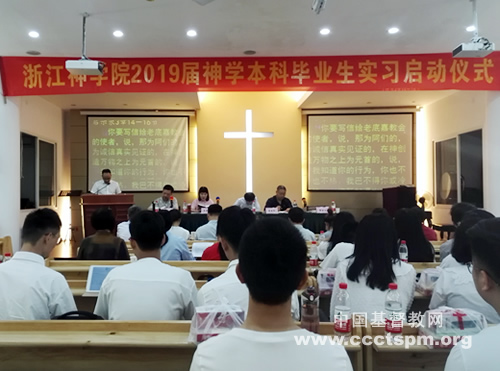 Rev. Wang Zilin hosted the ceremony. Students who are going to graduate next month sang I have found favor with God, expressing their resolution and goal of serving the Lord. Rev. Zheng Rongda cited verses from Revelation 3:14-16, and gave a sermon entitled "The value in presence".
Graduate representative made a speech. Elder Wu Meizhen then delivered an address.
On behalf of Zhejiang CC&TSPM and Zhejiang Theological Seminary, Rev. Lou Shibo addressed and had expectations on the church in Quzhou as well as theological students through stressing the importance of internship, genuine spiritual life, and significance of theological education.
He urged theological students to get close to grass-root churches, be humble, hard-working, conscientious, continuously improve personal capability of shepherding believers, and contribute to the church in Zhejiang.
The launching ceremony ended up with the benediction by Rev. Lou Shibo.