On the morning of August 20, 2019, the fifth centralized trainings for bilingual preachers from ethnic minority areas kicked off in Shanghai. Over 120 clergies and staff members who are both efficient in ethnic minority languages and Mandarin from 14 ethnic minorities in Yunnan, Guizhou and Guangxi attended the trainings.
At 8 a.m., Rev. Jiang Qianli, vice president of Shanghai TSPM shared a message from Luke 12:42 and exhorted all clergies and staff members to be God's faithful and wise managers.
The opening ceremony began at 8:30 a.m., hosted by Rev. Shan Weixiang, vice president and general secretary of China Christian Council (CCC). CCC President Wu Wei addressed the ceremony.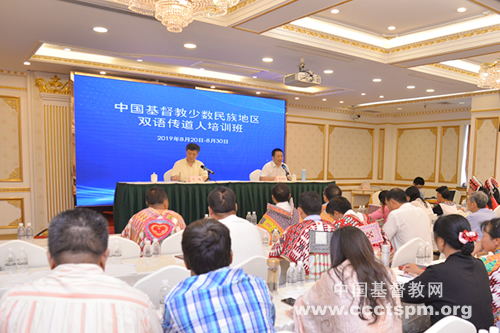 Rev. Wu Wei encouraged attendees to not only enrich elementary knowledge of Christianity but also know about our country and society. Through learning, thinking and exchanging, one should endeavor to improve the quality of faith, political awareness and educational levels so as to better shepherd believers.
Rev. Shan Weixiang noted that the trainings served the following three purposes.
First, seek for ways of dealing with the problem of "plentiful harvest but few workers", especially the scarcity of preachers in ethnic minority areas; Second, share with the pastors and staff members from ethnic minority areas and encourage them to learn not only the Word of God, but also rules, regulations and policies; Third, cultivate preachers who love country and love church, and are capable of resisting against overseas infiltrations in ethnic minority areas.
After the opening ceremony, Rev. Wu Wei gave a lecture on "Sticking to the Indigenization and Contextualization of Christianity in China". Combining theories with practices, Rev. Wu used vivid language and historical stories to elaborate the indigenization and contextualization of Christianity in China, making profound concepts easy to understand.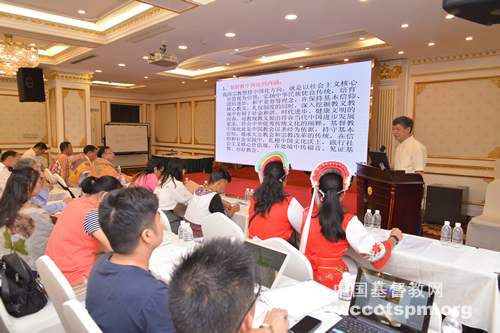 In the afternoon, Ms. Yu Miao, deputy director of the 11th Division for the United Front Work Department of CPC Central Committee, delivered a lecture on religious policies and regulations.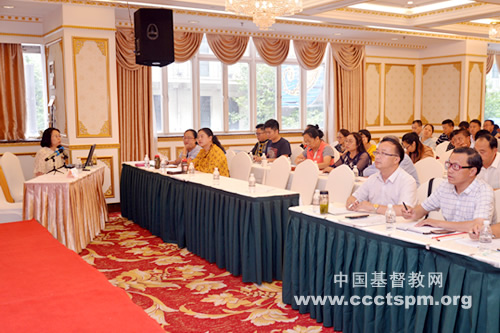 She made a specific explanation on the newly-revised "Regulations on Religious Affairs" and helped pastors and staff members better understand the regulations so that they could serve properly in the church and run their church in accordance with laws and regulations.
The trainings lasted for 12 days, consisting of lectures on the indigenization and contextualization of Christianity in China, religious policies and regulations, church governance, resisting and opposing heresy and cults, etc.
Pastors and staff members also had group discussion and sharings, visited churches in Shanghai, and so forth.