On September 23, 2019, CCC&TSPM organized series of activities to celebrate the 70th anniversary of the founding of the People's Republic of China (PRC).
At 8:10 a.m., with the solemn national anthem playing, standing members of the Second Joint Meeting of CCC&TSPM attended the flag-raising ceremony outside the Holy Trinity Church. Mr. Gu Mengfei, secretary general of National TSPM hosted the ceremony.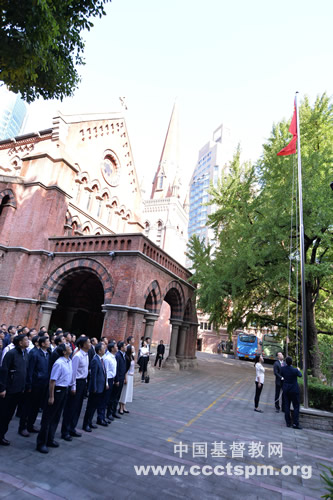 Rev. Wu Wei, president of China Christian Council (CCC), said that we Christians should not only give thanks to the grace of the Lord for living in this era, but also pray for His blessings to the country with a great prosperity.
At 3:40 p.m., an art exhibition opening ceremony kicked off at CCC&TSPM headquarters, hosted by Secretary General Mr. Gu Mengfei.
Rev. Xu Xiaohong, chairman of National TSPM, Rev. Wu Wei, Rev. Shan Weixiang, vice president and general secretary of CCC, and Rev. Shen Xuebin, vice president of CCC together unveiled the art exhibition.
CCC&TSPM had received over 150 pieces of traditional Chinese paintings and paper-cut works, 120 pieces of modern carving artworks, and 20 stone carvings from provinces including Fujian, Shanxi, Shaanxi, Guangdong, Jiangxi, Zhejiang, Shandong, Sichuan, Liaoning, Anhui, Beijing, etc. Around 100 pieces were selected as exhibits.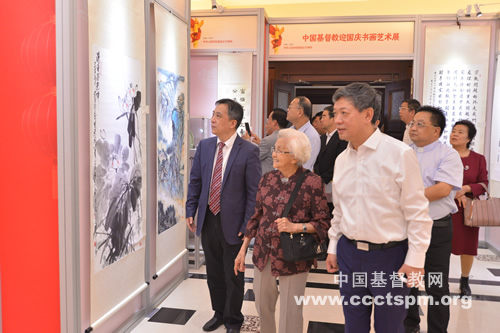 Items on display in this exhibition contained paintings Grand Ceremony, Honor God and Benefit The People, Love Country and Love Church, carving artworks including Blessings falling From Heaven, Love and Peace, Gratefulness, paper cutting works named Magi Visited Young Jesus, jade carving artwork Looking Upon Peace, pocelains from Yaozhou, Shaanxi Province The Bottle of Peace And Harmony, The Bottle of Faith And Love, Shoushan Stone artwork Praying Hands, as well as other carving artworks.
Before the art exhibition, there was an award ceremony of an essay writing activity and a launching of a book entitled Marching With The Country -- The Patriotic History of Chinese Christians.
At 7 p.m., a concert kicked off in Shanghai Mu'en Church. Nearly 700 brothers and sisters came to the concert.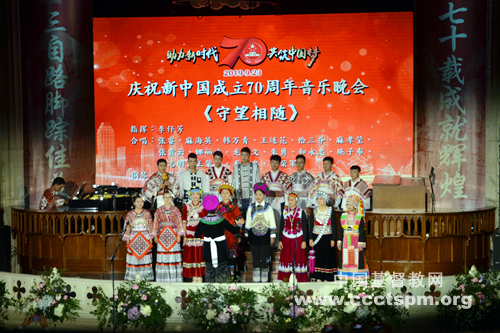 At the concert, various shows and programs like singing, ancient qin performance, poem reciting, etc. together contributed to a both audio and visual feast. Among this, theological students of Jingpo, Miao, Yi and other ethnic minorities from Yunnan Theological Seminary performed Watch and Follow, Ode To Thanksgiving in The Mountain, expressing a sense of solidarity and bravery among different ethnicities.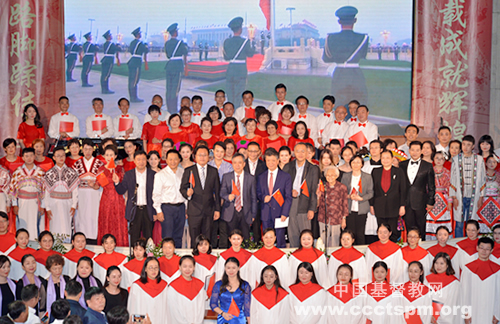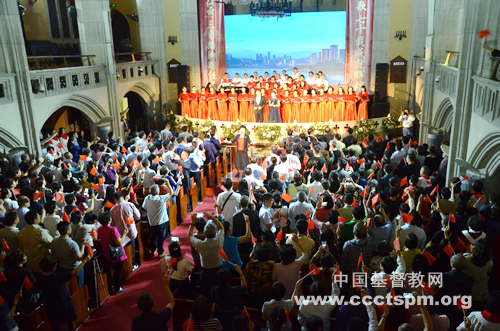 The two-hour concert ended up successfully with all participants waving flags and singing My Motherland and I.