On the morning of October 25, 2019, Mr. Gu Mengfei, secretary general of National TSPM received a delegation from the Outreach Foundation at CCC&TSPM headquarters. The two sides had a dialogue for friendship, further exchange and understanding.
Mr. Gu Mengfei conveyed the greetings from National TSPM Chairman Rev. Xu Xiaohong and CCC President Rev. Wu Wei, and extended sincere welcome to the delegation. He introduced the basic situation of Christianity in China, along with the trend and features of the progress in recent years.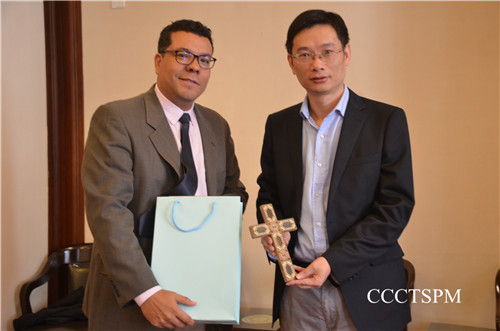 Juan Jose Sarmiento, deputy director of the Outreach Foundation presented the ministries in the foundation, and also said that the Outreach Foundation and the Church in China had developed a deep and long-lasting friendship. He expected to deepen exchange, cooperation and the friendship in the Lord between the two sides through this visit.
Afterwards, staff members shared the ministries in theological education and social services.
At last, the two sides exchanged gifts and the meeting ended up in an amicable and friendly atmosphere.