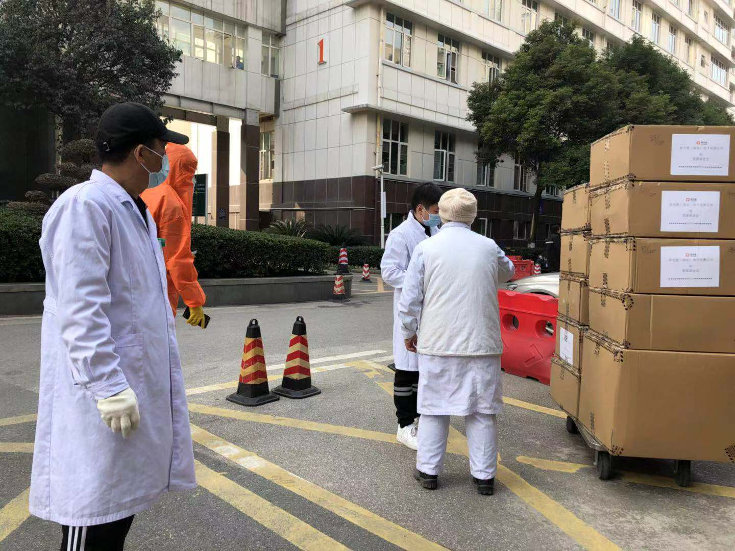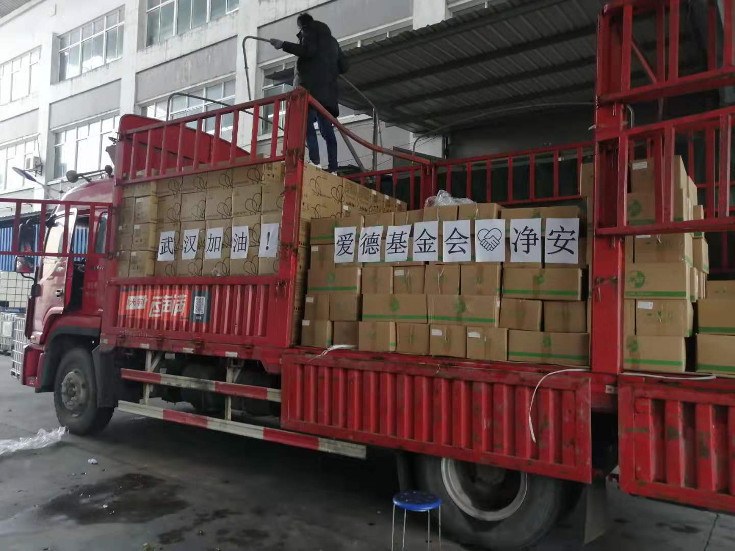 Over the last several days, the Amity Foundation has teamed up with local enterprises to support hospitals in fighting the coronavirus outbreak. Wuhan, the epicenter of the outbreak was placed under quarantine on 23 January 2020.
On January 24, Amity Foundation and Jiangsu Qianbao Biotechnology Co., Ltd. donated ten tons (500 barrels) of disinfectant to Wuhan hospitals. Suning Charity and Suning Logistics provided transportation support. At 11:30 AM on January 25, loading was completed, and a truck departed from Funing County to the city of Wuhan and arrived 9 hours later at Hubei Provincial People's Hospital.
On January 25, Anhui Jinhe Industry Co., Ltd. donated 40 tons of hydrogen peroxide to Amity Foundation. At 8:40 pm in the evening, the materials were packed and loaded in Anhui Province, and Suning Charity and Logistics continued to provide transportation support.
On the evening of January 24, Mary Kay Charity Fund (China) allocated RMB 1 million to help Wuhan to fight against the coronavirus. On Jan 25, Amity Foundation purchased the first batch of 3,400 protective screens (RMB 289,000) to protect medical staff working in Wuhan.
At 3 pm on the 25th, Amity staff delivered 56 protective screens to Wang Qian, the deputy director of the respiratory department of the Jiangsu Provincial Hospital of Chinese Medicine and an expert in his field. His team of doctors and nurses from Jiangsu were just about to depart to Wuhan. The remaining 3,344 protective screens have been shipped from Nanjing to Wuhan on the morning of January 26 and will be distributed among five major hospitals of Wuhan.
Anhui Jinhe pledged to continue making donations through Amity Foundation, and deliver hydrogen peroxide disinfectant to Wuhan to fight the coronavirus. Amity Foundation wants to express its gratitude to all the supporters of this crisis. It will continue to unite more forces to support the affected people by the coronavirus outbreak.
From January 26 to January 29, Amity Foundation delivered 18,000 KN95 masks to Wuhan and 3,000 goggles to hospitals in cities of Jingzhou, Huangshi and Jingmen. Additionally, 79 tons and 713 cases (a total of 14,992 bottles) of disinfectants arrived in Wuhan, and 23,5 tons of disinfectants are shipped to the city of Xiaogan, Hubei Province.
(The news and photos are sourced from the Amity Foundation. The original context is available at https://www.amityfoundation.org/eng/)