The Amity Foundation has expanded its emergency relief response in containing the coronavirus outbreak. It has supported various hospitals and communities in Hubei Province in fighting the virus. Thereby, it has received continuous strong support from local and overseas partners. (Follow Amity's Social Media channels for more updates.)

February 9 to February 15
With the support of people from all walks of life, Amity Foundation has provided more than 389 tons of disinfection supplies (disinfectant, hand sanitizer, etc.), Powered Air Purifying Respirator (662 sets with accessories), 23,940 protective face shields, 2,240 pairs of goggles, 18,000 KN95 masks, 250,000 pairs of disposable inspection gloves, 10,000 coronavirus nucleic acid detection reagents and other medical and protective supplies.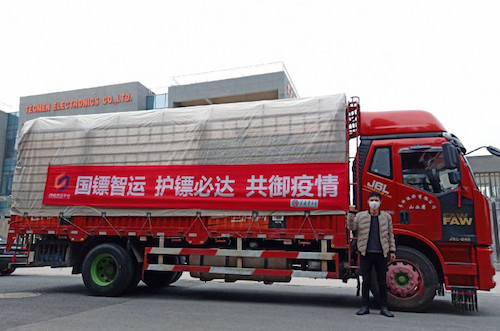 Furthermore, Amity delivered 330 ventilators, patient monitors, syringe pumps and infusion pumps, as well as daily necessities such as 6000 bowls of instant noodles and 996 boxes of instant rice packages, to medical institutions and communities in Wuhan, Huangshi, Jingmen, Jingzhou, Huanggang, Ezhou, Xiaogan and other cities and counties in Hubei Province.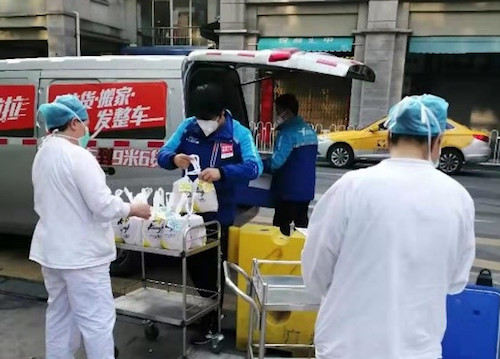 Amity teamed up with Alibaba and other companies and launched the "Guarding Angels" project. The project provides meals for front-line medical staff, who struggle to have regular meals due to their heavy workload. The project has already raised more than 4 million RMB and provided more than 60,000 meals to medical and administrative staff in 16 cities.
February 2 to February 9
The Amity Foundation has sent more than 369 tons of disinfection supplies (disinfectants, hand sanitizers, etc.), 12,900 protective screens, 3,000 goggles, 18,000 KN95 masks, gloves, and respirators to medical institutions and communities in Wuhan, Jingmen, Jingzhou, Huangshi, Huanggang, Ezhou, Xiaogan and other cities in Hubei Province. Meanwhile, the Amity Foundation also delivered 2.5 tons of disinfectant, 370 protective screens, and 36 respirators to the local medical institutions and communities in Nanjing.
January 29 to February 2
As of February 2, 2020, Amity Foundation has received a total of RMB 35.57 Million donation (including committed donation) from companies, organizations, online fundraising and individuals, and has transported nearly 300 tons of various disinfectants, 10,700 medical protective screens, 713 boxes of various disinfection supplies, 3000 goggles, 43,000 masks, 250,000 pairs of medical examination gloves, and food (including instant noodles and instant rice packages) to the Hubei Province, the province that is most affected by the coronavirus.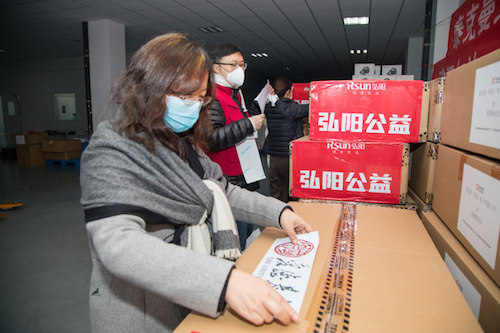 To support the work of Hubei's local social organizations, to promote sector advocacy on fighting against the coronavirus, and to explore international network, Amity Foundation, One Foundation, Narada Foundation, China Merchants Charitable Foundation, Zhenron Foundation, China Social Welfare Foundation, Beijing Pinglan Foundation, China Foundation for Poverty Alleviation, Beijing Normal University Research Center for Risk Governance and Innovation, and the International Council of Voluntary Agencies (ICVA) officially launched the China NGO Consortium for 2019-nCOV (CNC-2019nCOV).
Christians in China are supporting Amity's emergency relief operations. Chinese churches have raised more than 1.07 million RMB to support Amity's relief efforts in containing the coronavirus.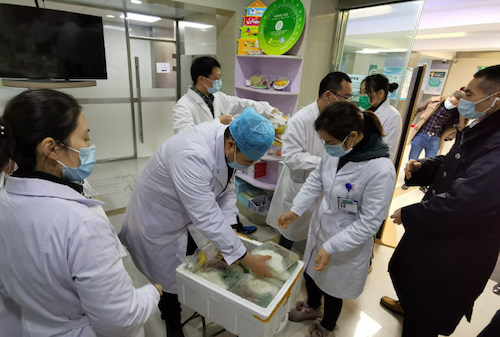 The coronavirus outbreak has also affected Jiangsu Province, where Amity Foundation's headquarters is located. It becomes common for medical staff in Nanjing's hospitals, especially in the local community hospitals, to have no time to go out for meals. Since Jan 29, the Amity Medical Health Fund, which is jointly established by Amity and Nanjing University, supports the doctors in local community hospitals and provide meals for them.
(The news and photos are sourced from the Amity Foundation. The original context is available at https://www.amityfoundation.org/eng/coronavirus-updates-amitys-work)