On October 14, 2020, Fujian Theological Seminary held an opening ceremony for the new semester.
Rev. Yue Qinghua, chairman of Fujian TSPM and president of Fujian Theological Seminary, addressed the opening ceremony. Rev. Yue expressed his expectations for students in three aspects. Firstly, he told them to keep in mind that "learning is the basis of being independent while reading is the basis of learning", hoping them to become diligent readers, read good books, and be good at reading. This can help them adapt to the new situation, new environment and new normal. Secondly, students should have a sincere attitude toward academic studies, exploring and sharing academic knowledge, honoring God and benefiting people. Thirdly, he asked them to devote themselves in self-perfecting, achieve self-improvement and cultivate interests by encouraging one another.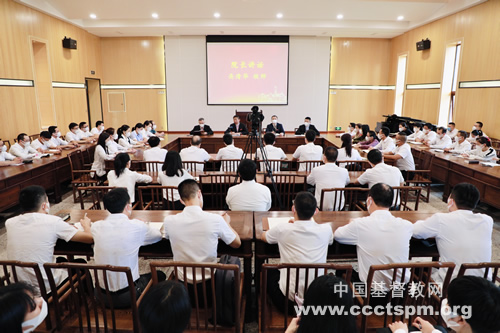 Even though the seminary was affected by the epidemic, the teaching and enrollment work still went smoothly and orderly. This year saw a continously rise on the number of freshmen with higher education background, which created favorable conditions for maintaining high-quality teaching and advancement in this seminary.
(Translated and edited by Bei Sang)