On November 22, 2020, Inner Mongolia CC&TSPM held the ordination and promotion ceremony in Haixilu Church, Hohhot City. Over 300 sisters and brothers of the church witnessed this holy moment.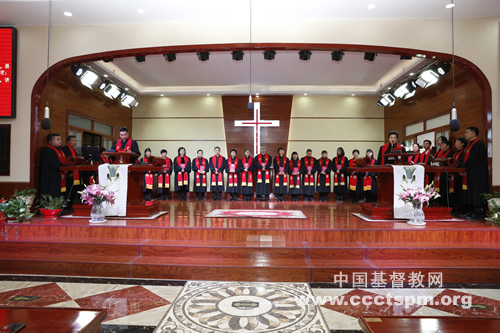 10 assistant pastors were promoted to pastors: Ma Liya (female), Wang Yuqian (female), Wang Haitao, Liu Guiyun (female), Li Wen (female), Yang Youshun, Yang Huiling (female), Zhang Wenjuan (female), Lu Quanlin, and Pan Enhua (female).
Seven fellow workers were also ordained as pastors: Wang Lixia (female), Liu Xu, Wu Di (female), Zhang Jian, Hao Huijuan (female), Ban Dongmei (female), and Guo Xinrong (female).
Eight fellow workers were ordained as elders, including Bao Xiaolin (female), Liu Fengqin (female), Liu Guilan (female), Li Xiuling (female), Li Quanmei (female), Li Fuzhen (female), Zhang Xianglan (female), and Yuan Hefeng (female).
It has been the first time for the city of Hohhot to ordain church members since April 2014.
On the same day, Jiangsu CC conducted ordination ceremonies respectively in the First City Church of Nantong and Taixing Church.
The newly-ordained pastors were Qin Junxiao (female) from the First City Church, Huang Dongmei (female) from Qidong City Huiping Church, and Yin Yajun from Qidong Yinyang Church. Zhuo Qiyang from Hai'an Church was also promoted to pastor.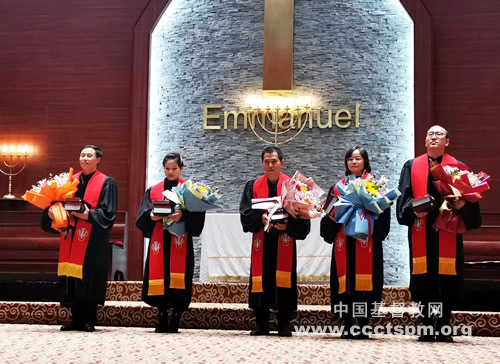 Rev. He Jiemiao presented the newly-ordained pastors with stoles and gave blessings to them. At last, the ordination ceremony ended up with the benediction given by the newly-ordained pastor Rev. Qin Junxiao.
In Taixing Church, Rev. He Jiemiao hosted the the laying on of hands, with Rev. Shi Chengzhong, Rev. Yan Zheng, Rev. Zhao Huijuan, Rev. Zhang Yanhong and Rev. Li Shuling assisting the ceremony. The ordaining group ordained Rev. Liu Weiwei (female) as pastor, Zhang Zaopin, Du Yueqing and Gu Lingling (female) as elders.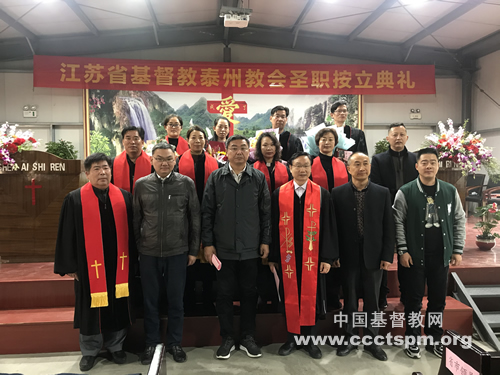 (Translated and edited by Bei Sang)