On the morning of January 16, 2021, Theological Training Center of Jieyang, Guangdong Province held the 2020 Graduation Ceremony in Dongshan Church. The Ceremony, which had been postponed due to the COVID-19 pandemic, was under strict prevention and control measures.
63 graduates came from Theology Extension Class in Jieyang, Class for Further Theological Studies, Class for Advanced Theological Studies as well as the Art Class of Guangdong Union Theological Seminary. About 200 people participated in the Ceremony, including leaders of Jieyang CC&TSPM, all students and faculty members of the Theological Training Center.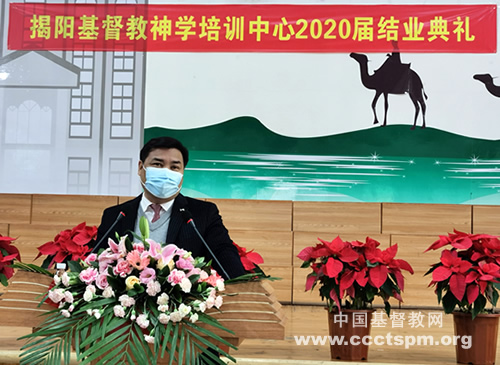 Rev. Huang Xiaoting, vice president & chairperson of Jieyang CC&TSPM, and director of the Training Center, presided over the ceremony. The students sang hymns like The Meadow Song, The Call of the Cross, etc., to show their resolution to serve the Lord wholeheartedly.
Rev. Xu Jieping, vice executive chairperson of Guangdong TSPM, president of Guangdong Union Theological Seminary, and chairperson of Jieyang TSPM, addressed the ceremony and conferred the graduates with graduation certificates.
Prior to the ceremony, a worship service was held, and Rev. Lei Yuming, vice executive president of Guangdong CC, preached a sermon entitled "Blessed Are Those Who Wait for the Lord". He exhorted all student members to be patient and wait under this special circumstances, clarify His purposes, and prepare oneself to become the vessel used by God.
(Translated and edited by Bei Sang)