On the afternoon of April 29, 2021, CCC&TSPM and Hong Kong Sheng Kung Hui jointly held a virtual meeting. Rev. Xu Xiaohong, chairperson of National TSPM, Rev. Wu Wei, president of CCC, and the Most Rev. Andrew Chan, archbishop of HKSKH attended the virtual meeting. The two sides recalled the previous exchanges between each other and the friendship between church predecessors, shared the situations of churches in the period of epidemic prevention and control, as well as the role of churches in society. They also looked forward with anticipation to the exchange in the future.
At the meeting, Rev. Xu Xiaohong and Rev. Wei Wei introduced effective antivirus measures undertaken by the society and churches in the Chinese mainland, along with congregational activities and social development.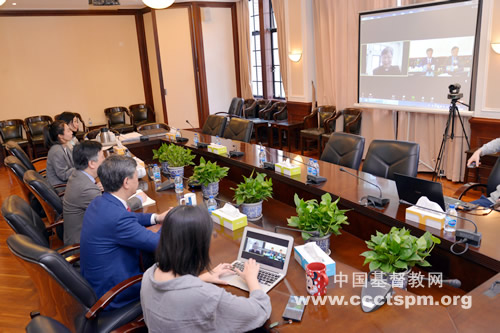 The Most Rev. Andrew Chan appreciated these anti-epidemic measures. He also mentioned that Christianity in Hong Kong shall make efforts in helping young Hong Kongers to establish a healthy outlook on life, and lead a joyous life with faith and peace from our Heavenly Father. He expected to see strengthened exchanges in theological education between Hong Kong and the mainland.
Rev. Xu Xiaohong said it's of vital importance for the young generation to share a sense of national and ethnic recognition, and have a holistic perception of their society. Christianity is a religion of love and peace, and Christians are the light and salt of the earth. HKSKH indeed practices the biblical teachings of loving neighbors and plays a leading role in exerting positive influence as a golden lampstand that shines forth light.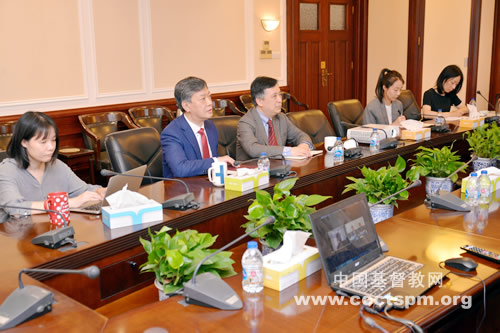 Rev. Wu Wei said that the church could bring peace to the society, allowing the latter to develop peacefully and stably. Hong Kong churches are one body of Jesus Christ, and we remember the brothers and sisters there. Following the guidance of God, we love and support each other in promoting the unity of the church as well as the prosperity of the country.
The two sides hoped that the pandemic could end soon so as to restart face-to-face exchanges and visits.
Ms. Gu Jingqin, interim director of the Overseas Relations Department of CCC&TSPM, also participated in the virtual meeting.
Translated and edited by Bei Sang.