On the morning of May 18, 2021, CCC&TSPM and the Anglican Diocese of Singapore jointly held a virtual meeting. Participants included President of CCC Rev. Wu Wei, Vice President Rev. Shen Xuebin, Bishop of Singapore the Rt Rev. Dr. Titus Chung, Archdeacon Low Jee King, Bishop Emeritus the Rt Rev. Dr. John Chew, Director of UBS China Partnership Mr. Kua Wee Seng, etc.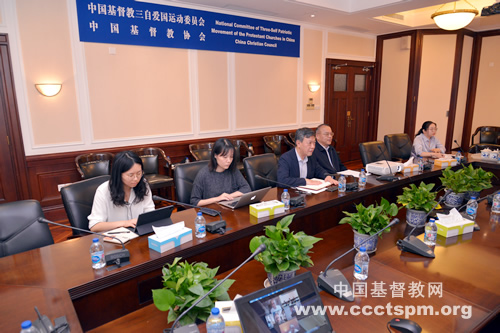 Rev. Wu Wei and Rev. Shen Xuebin expressed the willingness to continue the exchange and cooperation between the two sides, so as to carry on the legacy of friendship left behind by church predecessors. Rev. Wu Wei mentioned that the Anglican Diocese of Singapore has long supported and assisted the church in China since the reform and opening up, and the works having been done are of great significance to the latter. He stressed that the church in China is making active efforts in reflecting on how to provide better pastoral care to believers as well as how to better equip our pastoral staff, along with the transformation from "the Church in China" to "the Church of China". Rev. Wu hoped that the two sides would share the experience in church ministries, deepen cooperation and exchanges in the future. Rev. Shen Xuebin shared the basic situation of church ministries in China since the virus outbreak.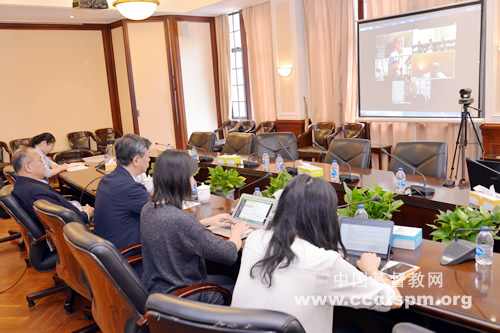 Bishop Titus Chung then said that he would like to avail of this virtual meeting as a chance to further understand China's church ministries, and expected to comprehensively and thoroughly learn about Chinese churches in forthcoming exchanges. Archdeacon Low Jee King introduced the challenges facing the ministries carried out in Singapore churches during the pandemic. Bishop John Chew recalled the history of interaction and cooperation between the Anglican Diocese of Singapore and CCC&TSPM since 1991 the year when the two sides started the partnership.
The two sides also exchanged ideas regarding the reflection of pandemic-induced challenges for churches, ministry of social services, etc. They also said that they would continue to pray, and hoped that the pandemic would end soon, thereby making it possible to resume face-to-face exchanges and mutual visits.
Mrs. Gu Jingqin, interim director of the Overseas Relations Department of CCC&TSPM and other staff members also participated in the virtual conference.
Translated and edited by Bei Sang.