CCC&TSPM and the National Council of Churches of Singapore (NCCS) had a virtual meeting on the morning of November 30, 2021. President of CCC, Rev. Wu Wei, Residential Vice President Rev. Shen Xuebin and others attended the virtual meeting. The two sides shared and exchanged what had happened to the churches in their countries since the COVID-19 outbreak. Rev. Shen Xuebin moderated the meeting.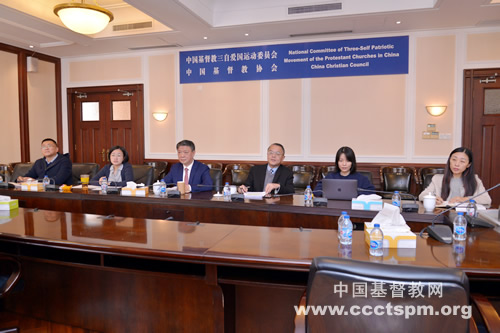 On behalf of CCC&TSPM, Rev. Wu Wei first extended regards to NCCS. Then he recalled the previous interactions between the two sides in pre-pandemic times, and introduced the situations of the Church in China since the outbreak. Rev. Wu stressed that the Church is pressing forward on the path of the Indigenization and Contextualization of Christianity in China, as well as on the effort to achieve good church management in accordance with the law and regulations, and to nurture talented people for churches. Rev. Wu also expressed the appreciation for the financial support from NCCS during the pandemic.
Rev. Shen Xuebin noted that churches should attach importance to preaching and provide better services to the believers during the pandemic or in the post-pandemic times. He suggested that churches could adopt multiple forms to draw young believers to join the church. Hopefully these efforts could help churches become more competent to deal with potential problems.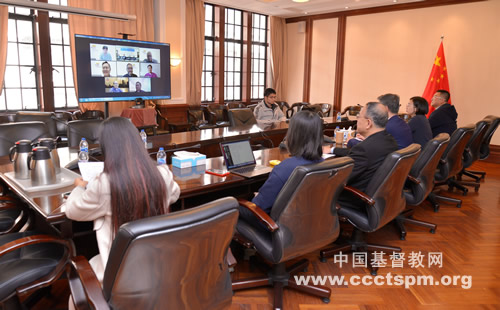 During the virtual meeting, the Right Rev. Dr. Titus Chung Khiam Boon, President of NCCS, together with his colleagues talked over the situation of churches in Singapore and the challenges in the pastoral care under the regular prevention and control of the pandemic at the moment. They said the two sides could deepen mutual understanding through the exchange. They also hoped to maintain the friendship and work together to overcome difficulties, and to resume mutual visits soon when the pandemic is over.
Ms. Gu Jingqin, interim Chief of Overseas Relations Department of CCC&TSPM, Ms. Shi Meiying from Overseas Relations Department, Mr. Jiang Guoqiang from Theological Education Department, and colleagues from Media Ministry Department participated in this virtual meeting.
Translated and edited by Bei Sang.