On January 6, 2022, Zhongnan Theological Seminary organized a gathering and a liturgy of commissioning for the layperson training class of 2021. The graduation ceremony was held on January 7.
The trainees expressed their reverence for God and gratitude towards the seminary by performing holy drama, sketch, dance, chorus, chorus in small groups, etc. They also prepared a video to review the one-year college life. The faculty team sang the song "Amazing Grace" together to bless them with God-given grace throughout their journey. Rev. Zhang Shuilian, the executive vice president of Zhongnan Theological Seminary, hosted the holy liturgy of commissioning. The class of 2021 then sang "Here I Am" to answer the commissioning from the Heavenly Father.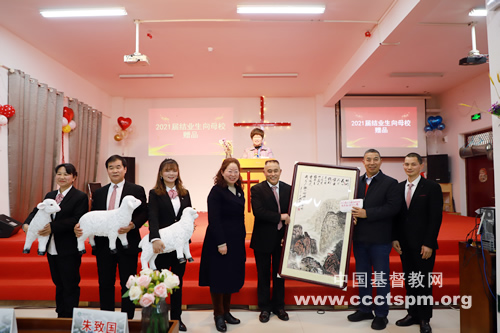 At the graduation ceremony, the president of the seminary Rev. Zhu Zhiguo presented training certificates and books to the graduates. He also gave words of exhortation, asking them to serve with a humble and submissive heart, keep learning and discipline themselves, enhance the spirituality and guide the believers on the path of indiginization and contextualization of Christianity in China. Students of the layperson training class sang a chorus, and donated funds and gifts to express their gratitude to Zhongnan Theological Seminary.
Translated and edited by Bei Sang.