On the afternoon of July 29, 2022, Rev. Shen Xuebin, vice president of CCC, The Rt Rev. David Andrew Urquhart, Bishop of Birmingham and the Archbishop of Canterbury's envoy to China, and other staff participated in a virtual meeting.
The two sides had an exchange over the latest progress of church ministries in the two countries, and they looked forward to mutual visits after the pandemic ended.
In the meeting, The Rt Rev. David Andrew Urquhart said that the Church of England would keep building and maintaining a good relationship with the Chinese counterpart. Bishop David Andrew Urquhart also mentioned the ongoing Lambert Conference that was committed to addressing issues like poverty, climate change, global sustainable development, etc.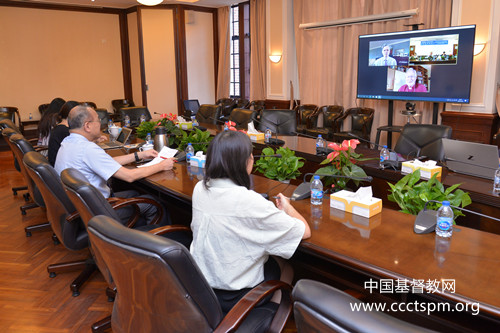 Rev. Shen Xuebin stressed that the two sides shall play their parts in sustaining and further strengthening the long-lasting friendship. Rev. Shen shared the major ministries currently being carried out by the Church in China. He spoke highly of the topics discussed by the Lambert Conference, and extended his best wished for a successful conference. He also expected that the two sides could pray for each other and resume face-to-face exchange very soon after the pandemic came to an end.
Ms. Gu Jingqin, interim chief of Overseas Relations Department of CCC&TSPM, and other colleagues also attended this virtual meeting.
Translated and edited by Bei Sang.