On November 17, 2022, Northeast Theological Seminary conducted a thanksgiving worship service. With great enthusiasm, all teachers and students attended the service to give thanks to God in a unique Chinese way.
The thanksgiving worship service was divided into two parts. The first part was the thanksgiving service. Using the call-and-response format, some teachers read verses about thanksgiving and praise from Psalms. Other teachers led prayers for the country, the church and the seminary. The Holy Choir of Northeast Theological Seminary then responded the Scripture reading and prayers with hymns.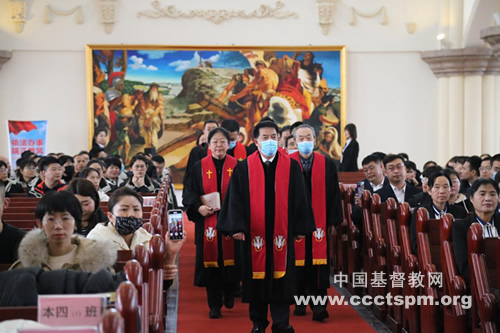 Rev. Wang Jingli preached a sermon. She cited a few Biblical figures like Abel, Noah, Abraham, Job and David who offered sacrifices and thanksgiving to God, and shared how believers should express gratitude to God. All teachers and students then recited the Prayer of St. Francis to respond to the sermon. The thanksgiving service ended with a benediction by Rev. Shi Aijun, the president of the seminary.
The second part of the thanksgiving worship service was the performance of each class. The various shows and performances included dance, chorus and dramas, highlighting the Chinese characteristics.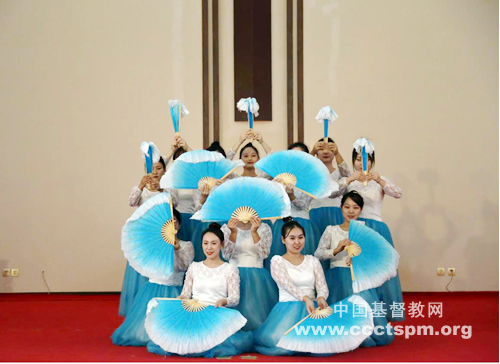 For example, the fan dance presented by the third-year undergraduates used the hymn Fair Name of Jesus as the background music, which features a Chinese folk tune. The first-year undergraduates gave a dance show named All Creation Filled by Your Love. The first-year secondary school students performed a drama Gratitude. The performers told a true story of self repentance, which was a life-changing experience about how they rejected evil and chose good in Christ, and shook off the old and put on the new. The second-year secondary school students presented an original chorus called The Seminary is Our Home.
Translated and edited by Bei Sang.