In memory of the crucifixion of Lord Jesus, Jiangxi CC&TSPM's affiliated Grace Church, together with Jiangxi Bible School conducted the 2023 Palm Sunday Service on April 2.
The Palm Sunday (also known as Passion Sunday) is the day to commence the Passion Week, which is the holiest of spiritual life, because Jesus was betrayed, on trial and crucified on a cross during this week. He was in the end resurrected in glory.
The Palm Sunday service was composed of the Palm Sunday parade, the liturgy of the Word, the Gospel of the Passion of Christ, and a sermon.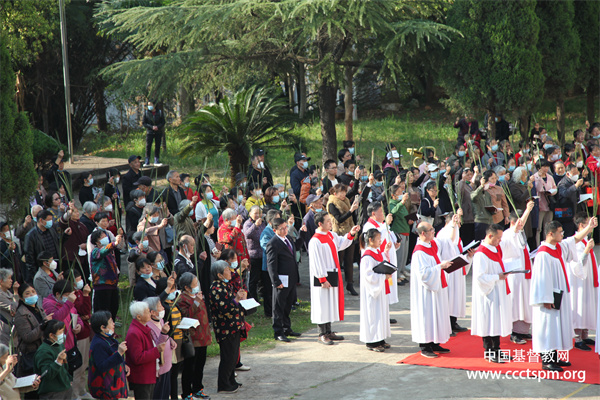 Those who attended the service included included Rev. Hong Shuyong, the moderator of the worship service, the evangelist Rev. Wu Yumei, the church choir (most of its members are the students of Jiangxi Bible School), and performers of the drama named "The Gospel of the Passion of Christ". Together they reproduced the scene in which Jesus entered the Holy City of Jerusalem on that day.
Rev. Li Baole gave a sermon titled "Little Donkey as a Big Witness", which contained three parts: "Sacrifice to Christ", "Commit to Christ", and "Glorify Christ". The ambience of the whole service was fervent and pious.
Translated and edited by Bei Feng, Tian Tian.