From August 15 to 18, 2023, Pu'er CC&TSPM held the seventh minister training class in Pu'er City of Yunnan Province, which was attended by an assembly of 80 ministers from the city.
Rev. Shao Liliang, Vice President of Yunnan CC and Director of the Trinity International Church, was invited to give a lecture on "Faithful servant pleasing to God in the new era". With the title "On Church Conflict Management", a speech was given by Rev. Diao Yingchun, Chairperson of Pu'er TSPM, who explained the concept of the conflicts in churches, effective problem-solving methods, essential attributes for ministers to solve conflicts, etc. Rev. Tian Yanping, President of Pu'er CC, elaborated on the basic qualities for ministers from eight aspects.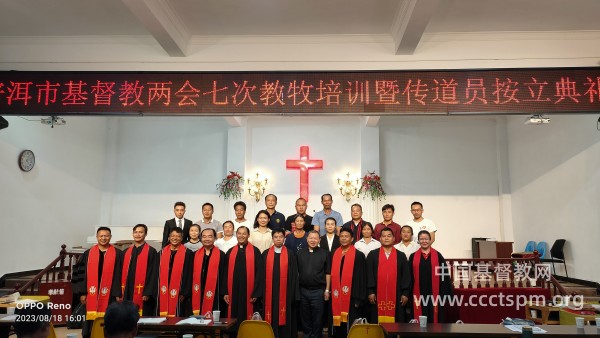 Rev. Li Kun, Vice President and Vice Chairperson of Pu'er CC&TSPM, preached a sermon titled "We shall shepherd our congregation well", with the verses of 1 Peter 5:2-4. Rev. Luo Hongchun, General Secretary of Pu'er CC, shared a message entitled "Self-shaping based upon the dimensions of talent development".
During the training, sixteen young fellow workers were ordained as preachers. The training serves the purposes of enhancing the strength and quality of local ministers, thereby further promoting the healthy development of the churches in Pu'er City.
Translated and edited by Bei Feng.