History: Guangdong Union Theological Seminary is established by Guangdong CC&TSPM as a religious institution to cultivate clergy in Guangdong Province.
Formerly known as Canton Union Theological College and first built in 1914, Guangdong Union Theological Seminary was once part of Lingnan University (then named as Lingnan Private Union Theological Seminary). In 1951, the seminary was independent again, regaining its old name "Canton Union Theological Seminary". In 1986, it was renamed "Guangdong Union Theological Seminary".
In August 2009, the seminary was officially upgraded and became a theological institution providing undergraduate programs. And it is the first provincial theological seminary in China.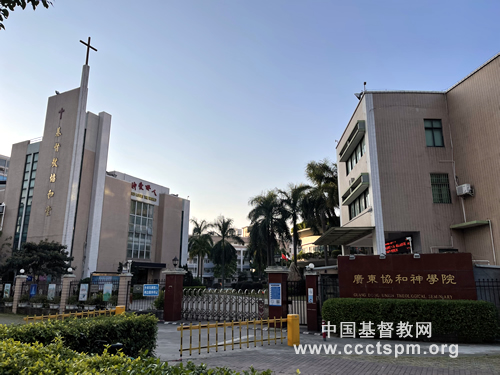 Leadership: Rev. Xu Jieping serves as the current president and Rev. Cai Jianwei as one of the vice presidents.
Curriculum: The seminary opens up multiple programs, containing three-year junior college program, four-year undergraduate program, the bridging course for clergy (junior college to undergraduate), and two-year sacred music program. Furthermore, the seminary set up an extension course in 2010, which opens on weekends for believers who want to learn the Bible and theological knowledge.
Faculty: Guangdong Union Theological Seminary is equipped with 15 full-time teachers, including 7 PhD holders and the rest of them with at least one master's degree. The seminary also invites 15 professors and researchers from Guangdong universities as sitting teachers, and knowledgeable and seasoned clergy as lecturers.

Library collection: The seminary's library owns nearly 60,000 books, with about 46,000 Chinese books. Moreover, its digital collections encompass more than 200,000 e-books and 33 high-impact e-journals. The seminary also provides access to over 1000,000 e-books, which a shared resource used by world-famous universities.
Students and graduates: Guangdong Union Theological Seminary currently has 12 classes and over 300 enrolled students, among which 130 are full-time students.
Other ministries: The seminary's journal Guangdong Theological Review was launched in 2003, and renamed The Window of Union in 2016. As an important platform for academic exchange in the seminary, it aims at sharing the outcomes of the reconstruction of theological thinking.