On the morning of 21th September, 2018, Henan Theological Seminary held the 2018 freshman opening ceremony to welcome the undergraduate freshmen.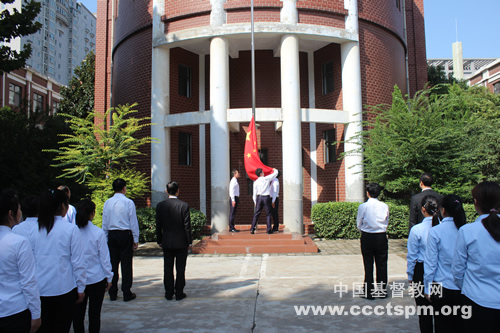 Before the ceremony, all faculties and students attended the flag-raising ceremony on the playground. Rev. Sun Hongshe, dean of Henan Theological Seminary, held the opening ceremony, with Chaplain Rev. Xu Chunmu praying, assistant dean Rev. Jin Xinyuan reading the lection from Psalms 15 and Isaiah 6:8. Third-year and second-year Junior College students as well as undergraduate freshmen praised the Lord and expressed their resolution to serve the Lord through respectively singing the hymns of Not I, But Christ; Deeper, Deeper in the Love of Jesus; I Surrender All.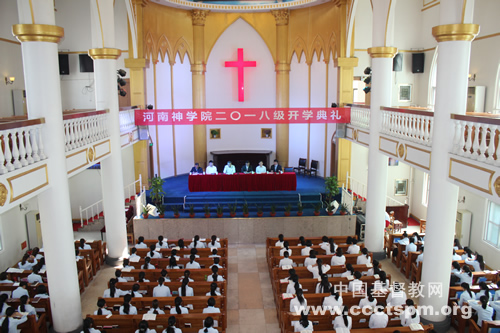 Rev. Tang Weimin, President of Henan Theological Seminary, exhorted these theological students to ensure God's calling, work in diligence, live in harmony, and discipline themselves in solitude. Vice-president Rev. Hu Junjie encouraged students to set clear goals, make up explicit plans, and train themselves spiritually. Rev. Wang Fuzeng then motivated the students and told them to establish firm confidence and develop healthy behavior. Jingrui, Director of provincial Second Department of the State Bureau on Religious Affairs also came to deliver a speech. He stressed the necessities of comprehensively implementing the religious guideline and policy by the Communist Party, fully implement Regulations on Religious Affairs, and practice and disseminate Core Socialist Values. It was followed by a freshman speech given by Brother Liu who was the freshman representative. He said that he will obey rules and regulations of the seminary, respect teachers and focus on the study.
The Dean of General Affairs of Henan Theological Seminary did the thanksgiving prayer. At length, the opening ceremony ended up successfully with Rev. Tang blessing the audience.