Bian River streams and surrounds an ancient city with the history of over a thousand years, and the name of the city is called Su Zhou. Here, there is a church established for over a hundred years and now it is the season again for enjoying the fragrance of osmanthus.
On 26th October, 2018, Suzhou Gospel Church in Anhui Province held its 110th anniversary Thanksgiving Celebration. Approximately two thousand people including guests from both inside and outside the province and the church staffs and believers came to attend the ceremony.
At eight o'clock on the morning of 26th, the thanksgiving service began and it was hosted by Rev. Dai Yongsheng, senior pastor of the Gospel Church. Rev. Bao Jiayuan, former Associate General Secretary of China Christian Council and Director of the Commission on Bible Publication, preached, and Rev. Lin Xin, Vice President and General Secretary of Longwan District Christian Counci, Wenzhou City, Zhejiang Province, prayed. A pastoral clergy consisting of 33 pastors from inside and outside the province came to give blessing to the Gospel Church.
At nine o'clock, Rev. Dai Yongsheng presided over the thanksgiving ceremony for the 110th anniversary of Suzhou Gospel Church.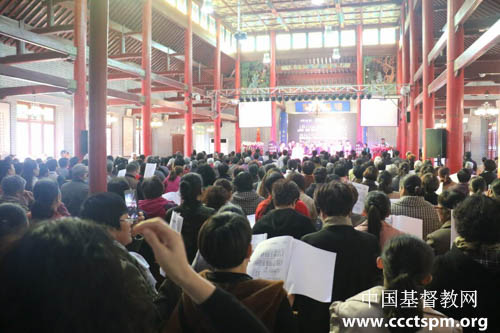 At ten o'clock in the morning, Rev. Huang Xingping hosted the opening ceremony for Suzhou Christian Art Gallery. The art gallery now has a collection of 35 paintings and books, mainly from national top-class calligraphers and artists. The Unveiling of the nameplate and certificates awarding were also conducted during the ceremony.
The art gallery officially opened for the public after the ceremony. Visitors browsed and gave praises to these artworks with Christian characteristics.
At two o'clock in the afternoon, Suzhou Gospel Church gave a choral performance for the thanksgiving ceremony with Chinese choral programs which were performed by the Gospel Church's folk orchestra, electric band, the orchestra band, and three choirs respectively.
May God bless Suzhou Gospel Church continue to develop orderly, healthily and harmoniously in future, effortlessly writing an innovative chapter, leading believers to make new contribution in terms of church development and social progress.