On 18th November, 2018, the Christian Council in the Guangxi Zhuang Autonomous Region held an ordination ceremony in Taiping Church in Teng County, Wuzhou City. Xie Baofeng was ordained as pastor in the church.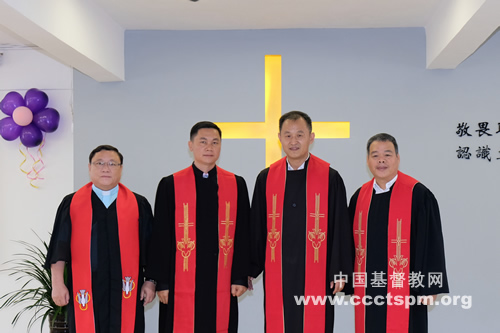 Rev. Wang Conglian, President of Guangxi CC presided over the ordination ceremony, assisted by Rev. Xiao Jifu, Vice Chairman of Guangxi TSPM and Rev. Mo Hansheng, Vice President of Guangxi CC.
Rev. Wang Conglian cited the verse in the Book of Romans 1:1 to exhort the newly ordained pastor to bear in mind God's calling as well as his mission to shepherd the flock and proclaim the gospel so as to become the Lord's good and faithful servant. Rev. Wang leant that Taiping Church accomplished some achievements in the social service ministry. He then further encouraged the pastor to lead the congregation to continue contributing to local economic growth, harmony and stability in society, honoring God and benefiting people.