On the afternoon of April 25, 2019, accompanied by senior officers from the United Front Work Department of CPC Central Committee and Shanghai Ethnic and Religious Administration, the Most Rev. Justin Welby, Archbishop of Canterbury and four other delegates visited CCC&TSPM at the joint invitation of National Religious Affairs Administration and CCC&TSPM.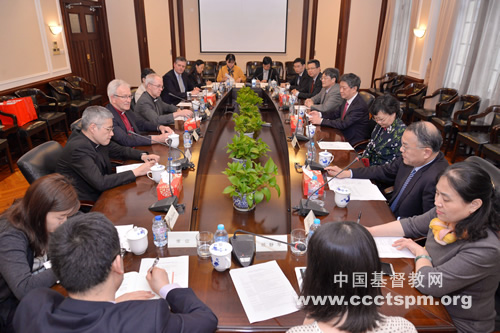 Rev. Wu Wei, president of China Christian Council (CCC) received the guests. Rev. Kan Baoping, vice chairman of TSPM, Rev. Shen Xuebin, vice president of CCC, and Mr. Gu Mengfei, secretary general of TSPM participated in the reception. Rev. Shen Xuebin presided over the meeting.
On behalf of CCC&TSPM, Rev. Wu Wei addressed the welcome speech, and also shared the development of the church in China in recent years.
Rev. Wu pointed out that the past forty years or so since the reform and opening up policy witnessed tremendous changes in China and it is the same with the church in China.
Churches, together with the country have undergone development and progress. There is also a much closer relationship between the churches, the country as well as the people.
On the basis of biblical teaching and church traditions, the church in China is continuously exploring the path of indigenization and contextualization of Christianity in China, aiming at making the church in China genuinely a part of the country and the nation, as well as an active role in the society.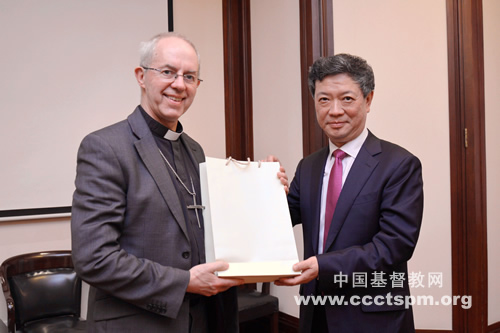 Rev. Wu stressed that CCC&TSPM especially values the healthy development of the church in China, and leads churches to grow on the premise of observing the law and regulations, resist heresies and overseas infiltration, and face up with difficulties and challenges.
Archbishop Welby said that he felt very much honored to pay the second visit to CCC&TSPM during his term.
Welby appreciated the indigenization and contextualization of Christianity in China. He shared the indigenization of Anglican Communion, and believed that the indigenization is much more complied with the Biblical teaching.
He also accentuated that a higher demand in the clergies is of necessity and efforts should be made in promoting education.
At last, the Archbishop offered a sincere invitation to the staff members of CCC&TSPM visiting the Church of England next year.