On September 15, 2019, Tianjin CC&TSPM conducted a thanksgiving dedication service at Xianshuigu Church in South District, Tianjin.
Rev. Mao Yajun, chairman and president of Tianjin CC&TSPM, pastors and staff members of Tianjin CC&TSPM, and leaders and laypersons of major churches affiliated with Tianjin CC&TSPM attended the service.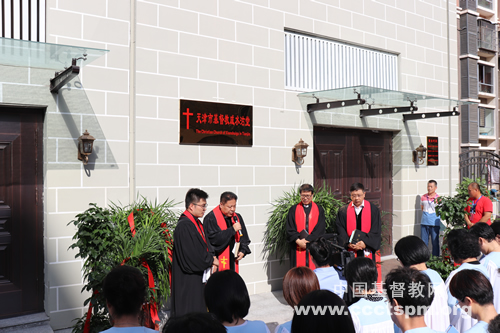 Senior Pastor Rev. Wang Cong from Xianshuigu Church hosted the dedication ceremony. Rev. Mao Yajun exhorted the congregation with the verses from Ephesians 4:1-16.
"It is the grace of God that renews and expands Xianshuigu Church." Rev. Mao said, "Based upon the Biblical teaching, building a united church requires us to look upon the Lord, and let the love of Jesus remain in our hearts; build faith on a good foundation, and let our faith take root in the spring of the living water of life so that the branches will bear more fruits and never wither; cherish the grace of God and praise and worship in the Spirit and the truth."
"Each of us should be connected with our Lord Jesus, fulfill our duties, and benefit one another in the love of God."
More than three decades ago, Xianshuigu Church was established shortly after the opening up and reform policy was implemented. At that time, the church was in a tiny residence, impoverished and often harassed by heresies.
In the late 2000s, Tianjin CC&TSPM subsidized the church to improve its environment for worship services. On the occasion of the new century, when Xianshuigu Church was about to be demolished and relocated, Tianjin CC&TSPM and the church made joint efforts in negotiating with the authorities. After 10 years, the church obtained a piece of replacement land covering an area of 1000 square meters, ten times of the former one. Now the brand new church has taken on an entirely new outlook, equipped with various facilities.